Hari ni kecoh dengan pengguna CIMB mengamuk dekat Twitter bila dapat transaction 'Direct Debit'. Ada yang ditolak secara berjemaah, ada yang ditolak sekali sahaja tapi dengan jumlah yang besar.
Beberapa hari sebelum pun dah ada yang pelik kenapa jadi macam ni tapi kemuncaknya hari ni lah bila ramai yang nampak tweet dekat atas ni dan terkejut tengok transaction history penuh dengan 'Direct Debit'. Bila call CIMB pulak tak angkat. Ramai yang dah start transfer semua duit yang ada dalam CIMB pergi ke bank lain dan bakal tutup acc dengan CIMB.
Bila keadaan dah tak terkawal dan CIMB tak mampu nak attend semua call, CIMB keluarkan statement yang 'Direct Debit' ni legit transaction yang dibuat sendiri oleh customer cumanya sejak RMO, semua pending dalam keadaan float dan start aktif pada bulan ni. Means most likely customer pernah pergi luar negara dan buat transaksi dekat sana.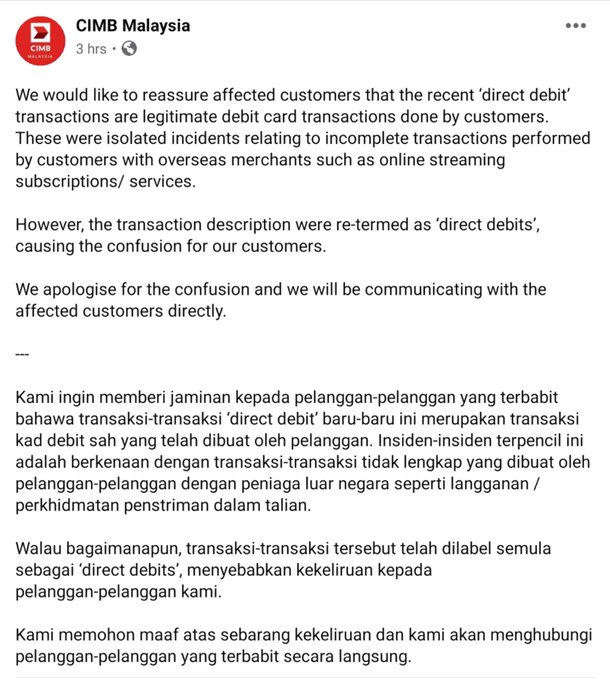 Ataupun customer yang ada subscribe mana-mana streaming channel macam Netflix, Spotify etc akan dapat kunjungan 'Direct Debit'. Tapi yang menghairankan bila pengguna CIMB yang tak pergi ke luar negara atau subscribe apa-apa pun hadap benda yang sama jugak. BNM advice supaya buat police report dan print out statement jumpa CIMB untuk dapatkan balik duit yang hilang.
Lagi sakit hati bila tengok perenggan kedua dalam permohonan maaf tu bila CIMB ambil jalan mudah untuk labelkan 'Direct Debit' untuk mudahkan kerja diorang. Sekarang dah susahkan semua.
Well benda ni bukan jadi semalam je, sebelum ni dah banyak kali system CIMB down dan kes duit hilang ni pun dah banyak kali terjadi pun. Ada yang pergi buat police report dan jumpa CIMB then dalam masa 14 hari dapat balik duit. Ada yang ambil tindakan yang sama tapi CIMB taknak bertanggungjawab.
Idk what will happened to CIMB but one thing for sure, kes positif pesakit covid-19 dah meningkat ke angka 3,483 dengan 57 kematian. Stay safe people and stop using CIMB.