Director : Vince Marcello
Writer : Vince Marcello, Jay Arnold
Cast : Joey King, Joel Courtney, Jacob Elordi, Maisie Richardson-Sellers, Taylor Zakhar Perez, Molly Ringwald, Meganne Young
Production Company : Komixx Entertainment
Distributor : Netflix
Genre : Teen / Romance
Running Time : 131 minutes
Release Date : 24 July, 2020
Trailer :
Just like
the first
, I'm watching The Kissing Booth 2 solely because of Noah. Hiks!
Kalau sebelum ni Elle Evans (Joey King) dan Lee Flynn (Joel Courtney) ada konflik sebab rule no. 9 – tak boleh bercinta dengan BFF's siblings. Kali ni dalam sequel yang diadaptasikan dari novel The Kissing Booth 2 - Going The Distance karya Beth Reekles, konflik terjadi bila Rachel (Meganne Young) geram dengan Elle sebab asyik kacau daun.
Elle pula dah set yang dia akan putus dengan Noah (Jacob Elordi) sooner or later sebab dia tak yakin pun relationship ni pergi jauh walaupun Noah totally into her and wants to make this works. Betul-betul dia nak putus even chat history dia dengan Noah pun tak wujud. Always a single text. Lagi goyah hubungan diorang bila Chloe (Maisie Richardson-Sellers) muncul dalam hidup Noah. Of course Elle jealous tambah pula bila dia jumpa earrings bawah katil Noah dan several times Noah kantoi menipu.
So here comes the other hot guy in Elle's life. Well, dalam sekolah tu sebenarnya. Finally Los Angeles have some hot guy. A hot guy. Marco V. Penas (Taylor Zakhar Perez). Tak cukup dengan hot, pandai main gitar, menari, sports pun dia tapau. And Noah just have a good face and body. Tssskkk
Remember when I said Lee quite possessive with Elle? Yupp, he stills have it walaupun dia dah ada Rachel. Jadi masalah bila dia nak Elle dengan Rachel both at the same time. Elle okay je kalau sorang-sorang pun sebab dia boleh je berkawan dengan sesiapa. Dengan Marco pun boleh ngam in just a split second.
Same goes to Noah. Dalam banyak-banyak masa yang ada dalam dunia ni, kenapa nak text Elle waktu sekolah? I mean you have your classes and friends then go do what you have to do. Kenapa nak kacau Elle then buat dia serba salah nak reply ke tak. Boston dengan LA still dalam USA, timezone tu tak lah berbeza macam USA & Malaysia. Lepastu Noah buat cerita sedih dia dapat low grades dekat uni and I was like yeah Noah, go study!
Sepatutnya Elle dah tak payah bingung nak pergi university mana dah sebab her future was set with Noah and Lee with Rachel. Oh come on takkan lah installment ketiga nanti Elle dengan Lee lagi? Kalau macam tu baik buat diorang jadi couple je instead of best friend. Seriously, both needs to grow up. Because we're discussing university now, no longer teen craps at high school. But we have Neighbors so yupp, whatever Whites!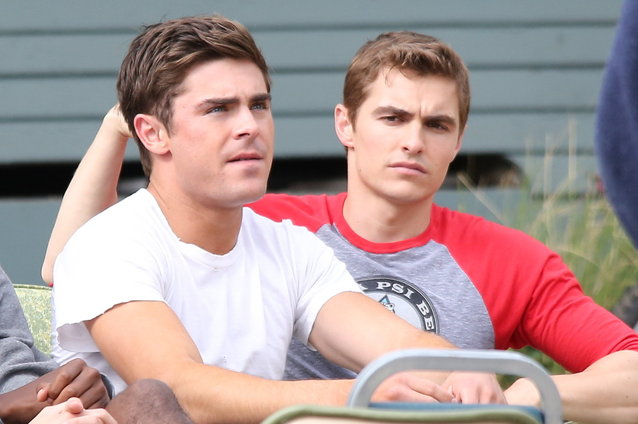 Kinda weird bila mak Lee dengan Noah tak peruntukkan duit untuk Elle padahal duit diorang terlebih dari cukup untuk tanggung kos belajar Elle. I mean, Elle bakal menantu dia kan? So what's the need for Elle and Marco practice bagai nak rak hari-hari untuk menang dance arcade competition? High school tu tak pernah bagi homework ke dekat students? Tak hairan lah kalau esei untuk entrance application macam karangan budak darjah 6.
I was wondering Marco dengan Elle ada discuss tak kalau diorang menang, duit tu nak bahagi macam mana? Takkan dia buat charity 'just by talking to you' jugak? Screentime Marco kurang dalam sequel walaupun dia hot tapi macam Elle cakap lah, dia cuma snack. A hot snack though. The main dish is always Noah.
Awww cute!
Visual and music score are great. But hmmm airport dia sama structure dengan dance competition event. Cakap pasal airport, dalam The Kissing Booth 1, kita boleh tengok Elle berhenti dekat escalator tu je sebab ada guard yang jaga tapi dalam sequel tak ada wei. Dia boleh masuk dekat lounge then keluar. Just like that. Lepastu dah penat dari Kissing Booth pergi airport then pergi dekat gazebo. Kalau I jadi Elle memang maghoh dengan Noah. Nasib baik dalam movie ni tak ada traffic jam.
Anyway, movie was okayish and I kinda prepared for The Kissing Booth 3. Well sebab Noah la of course tapi apa lagi nak sembang sebab Joey dengan Jacob dah putus IRL, watak Elle dengan Lee pun dah masuk university. Takkan dekat uni pun nak buat Kissing Booth lagi kot. Duhhh?
1. Team Production +0.5, 2. Visual +1, 3. Audio +1, 4. Storyline +0.3, 5. Casting +0.8, 6. Genre +0.6, 7. Themes +0.5, 8. Editing +0.5, 9. Social Message +0.2, 10. Personal Thought +0.4 = 5.8/10