Minggu lepas nampak keywords search keluar word 'Mahesh Bhatt dikecam'. Tak lain tak bukan haruslah sebab kes kematian Sushant Singh Rajput sebab beberapa jam lepas Sushant ditemui meninggal di rumah dia pada 14 Jun 2020, Mukesh Bhatt dan Mahesh Bhatt keluarkan statement yang Sushant depressed sama seperti Parveen Babi.
Mungkin ada yang belum baca artikel karangan fiksyen Subhash K Jha hasil interview dengan #TheBhatts. Kenapa fiksyen tu I'll explain later.
i. 'Sushant had come to meet Bhatt Saab for a possible role in Sadak 2'
Betul, Sushant dah jumpa Mahesh Bhatt untuk movie Sadak 2 around August 2018 lepas movie Kedarnath dan busy dengan Kizzie Aur Manni atau Dil Bechara. Sushant dah setuju untuk berlakon dalam Sadak 2 dan akan announce tentang Sadak 2. Tapi masuk bulan September 2018, tiba-tiba watak lead actor bertukar kepada Aditya Roy Kapur.
Dari artikel ni dah boleh nampak yang Aditya Roy Kapur merayu dekat Mahesh untuk join the cast. Boleh kata movie ni Alia yang control sebab dia yang pujuk ayah dia, Mahesh Bhatt untuk jadi director movie balik.
ii. "He had seen it in Parveen Babi and he knew there was nothing that would be done except medication"
Lies, lies and lies. Mahesh Bhatt yang rosakkan Parveen Babi bila dia eksploit Parveen sampai depressed. Bila Parveen pergi jauh ke Switzerland, apparently she's getting better tanpa perlukan ubat anti-depressant pun. Balik ke India terus jadi teruk sampai skizo then meninggal dunia seorang diri.
Kalau betul #TheBhatts nampak Sushant dah start sakit, kenapa tak advise Rhea untuk stay dan rawat Sushant? Kenapa tak keluar langsung artikel Sushant perlukan rehat sebab mental state dia tengah tak okay? The only news Sushant sakit bila dia kena denggi dan Rhea dengan abang dia jaga dekat rumah.
iii. "During the last one year, he had cut himself completely from all outside contact. Rhea was with him until she could take it no longer."
Last one year equal to 2019. Tapi Rhea stay dengan Sushant sampai 10 Jun 2020. Masa covid-19 lockdown, Rhea tinggal serumah dengan Sushant dan Sidharth Patani. Plus, why not kan since Sushant dengan Rhea sign contract bersama sebagai penyewa di Mont Blanc.
But yes Sushant delete semua post dekat IG lepas movie Sonchiriya. Tapi dia start post balik macam biasa dengan posting science dan religious stuff. Kata Sushant benda tu biasa bagi dia sebab dia tak suka stay dengan pattern yang sama.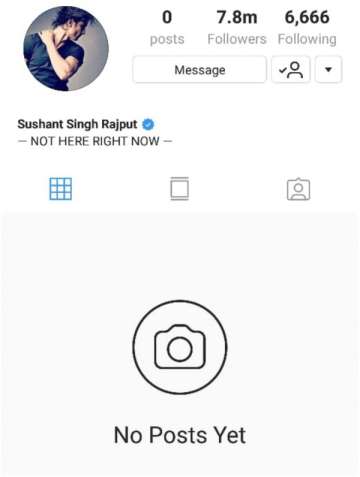 It was not the first time, Sushant had earlier also deleted all his social media posts. Once he was asked about the reason behind it and he told BT, "It's not philosophy. I was always a science student and was never into anything that had nothing to do with certainty. Science is all about certainty, about laws and it doesn't deal with a subjective point of view. I was wired like that. Once I started reading different kinds of books, which were also to do with science, it changed the way I thought. There's this forum The Edge, where John Brockmon calls the best guys from different disciplines — Astrophysics, Quantum Physics, Behavioural Economics, Cognitive Science — and they discuss their experiences."
He added, "If you read the books on that, then you realise that scientists are now saying that everything is just approximations, not certainties. So, whatever I write is not philosophy, it's science because science tells you that there is nothing right, nothing wrong. It's just your opinion, my opinion. Or it's your way of looking at things or my way of looking at things."
iv. "That's when Rhea was too frightened to stay with Sushant any longer"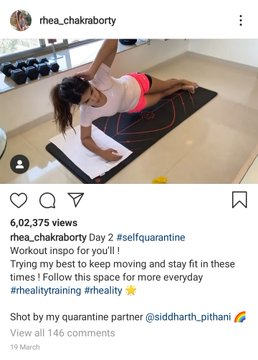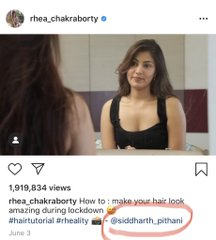 Rhea aktif sangat upload gambar dengan video dekat IG sepanjang kuarantin covid-19. Semua gambar dengan video diambil dengan bantuan Siddharth Patani. Even ada video dari paparazzi Sushant dengan Rhea pergi workout dekat gym pada hari terakhir sebelum kuarantin bermula di India.
v. "Rhea quit the relationship"
Depan polis cakap lain?
vi. "She had no choice. Bhatt Saab told her there was nothing she could do. If she stayed on she would lose her sanity too.
Mungkin betul apa yang Mahesh Bhatt cakap, kalau Rhea stay lama dengan Sushant, Rhea yang jadi gila. Rumah Sushant berhantu tapi boleh beria party sampai lewat malam :')
Cukup kot 6 point kenapa artikel #TheBhatts ni fiksyen dan direka untuk selamatkan Rhea dari jadi mangsa kecaman fans ataupun non fans Sushant Singh Rajput. Sebab interview #TheBhatts, ramai yang percaya Sushant skizo sampai dengar suara nak bunuh dia.
Senang untuk polis tutup kes sebagai kes bunuh diri tapi tak semudah yang #TheBhatts sangka bila kes kematian Sushant disiasat di bawah 4 dakwaan dalam Indian Penal Code:
i. Section 306 (Abetment of suicide);
ii. Section 109 (Punishment of abetment if the act abetted is committed in consequence, and where no express provision is made for its punishment);
iii. Section 504 (Intentional insult with intent to provoke breach of the peace); and,
iv. Section 506 (Punishment for criminal intimidation)
Disebabkan ramai yang troll #TheBhatts sebab naratif depression ni, Shaheen Bhatt update status do's and don'ts for mental depressed patients, isteri Mahesh Bhatt - Soni Razdan berdebat tentang depression. Even staff Mahesh Bhatt sokong Rhea dan naratif Sushant depressed. None of them really care for Sushant. They just want to save Rhea.
Later I'll update tentang Rhea Charaborthy pulak. Till then, om shanti Sushant.