Director : Prabhu Deva
Writer : Prabhu Deva, Shiraz Ahmed (dialogues)
Cast : Shahid Kapoor, Sonakshi Sinha, Sonu Sood
Production Company : Next Gen Films
Distributor : Eros International
Genre : Action / Romance
Running Time : 146 minutes
Release Date : 6 December 2013
Trailer :


Dah lama dah layan movie R..Rajkumar sejak keluar tahun 2013 lagi tapi boleh kata ulang banyak kali lah setiap tahun sebab kelakar tengok perangai watak Rajkumar (Shahid Kapoor) mengorat Lollipop kesayangan dia.


Romeo Rajkumar baru je datang ke kampung Dhartipur untuk join kumpulan samseng dan tokan dadah yang diketuai oleh Shivraj Gurjar (Sonu Sood). Disebabkan cerdik dan efisyen buat kerja, Romeo dinaikkan pangkat sebagai orang kanan walaupun dia baru saja join kumpulan tu lepas misi serang hendap ke port lepak Manik Parmar (Ashish Vidyarthi) kemudian bunuh adik Manik.
Dalam masa yang sama dia berusaha keras nak pikat hati Chanda (Sonakshi Sinha) walaupun Chanda beria menolak cinta dia disebabkan saiz badan Romeo yang agak kecil. Tapi Romeo bertegas yang saiz badan, warna kulit semua tu tak penting asalkan hati dia tulus cintakan Chanda.
Bila Chanda dah mula terima cinta Rajkumar, Shivraj pula tertawan dengan Chanda sampai sanggup berbaik dengan musuh ketat dia, Parmar semata untuk berkahwin dengan Chanda. Bermacam cara yang Romeo buat supaya hubungan dia dan Chanda kekal sampai ke perkahwinan. Nampak macam serious kan? Tapi semua scene ni kelakar.
Walaupun jalan cerita agak cliche dan predictable dengan movie romantik biasa tapi dialog dan plot yang digarap kemas antara kekuatan movie ni ditambah pula dengan chemistry Shahid dan Sonakshi Sinha menjadi sangat onscreen.
Banyak dialog yang padu dilontarkan dalam movie R..Rajkumar ni sampaikan dirisik oleh Oscar Library untuk simpanan diorang lepas skrip movie Lagaan, Rock On dan Guzaarish.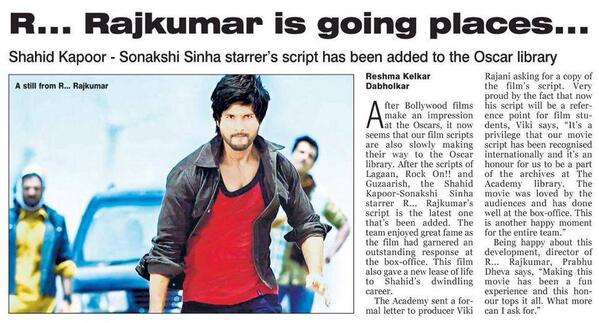 'Silent ho ja ... varna main violent ho jaonga'
(Be silent ... or else I become violent)
'Main paise ke liye kuch bhi kar sakta hoon ... toh sooch main apne pyar ke liye kya kya karoonga'
(I can do anything for money ... so imagine what all I can do for my love)
'If you say with anger, then I won't go ... and if you say with love, then I am ready to die also'
'You can't fall in love by height, weight, colour ... love happens from the heart'


I have only two things in my life ... love, love, love ... or hit, hit, hit
Lakonan Shahid sebagai Romeo Rajkumar antara watak yang keluar dari zon selesa di pada waktu tu bila dia lebih dikenali dengan chocolate boy tapi kali ni dia go bold dan tampil dengan watak yang banyak bermain dengan warna dari segi fashion, bold, short-tempered dan beberapa sisi yang jarang kita boleh tengok dari movie sebelumnya. Sonakshi being natural dengan watak Chanda. Sonu pula menyerlah dengan watak villain dalam movie.
Bekerja dengan Prabhu Deva baik dari sebagai pengarah ataupun choreographer bukan perkara yang mudah sebab dia susah nak explain apa yang dia nak disebabkan language barrier bila PD berasal dari Tamil Nadu dan bekerja di Bollywood tapi semua pelakon mampu deliver yang terbaik dari segi lakonan dan juga tarian.


Music album R..Rajkumar dapat sambutan hangat especially lagu Gandi Baat dengan koreografi unik, sama juga dengan lagu Saree Ke Fall Sa. Sekejap je dah naik tinggi dalam carta. Great job delivered by Pritam like always. Super in love dengan lagu romantik, Dhoka Dhadhi nyanyian Arijit Singh dan Palak Muchhal sebab gabungan dua suara yang harmoni dan lunak.
Sinematografi yang cantik dengan shot yang menarik. Camera angle agak kreatif bila banyak shot dari pelbagai sudut untuk tambahkan emosi dan bantu tambah elemen dramatik untuk beberapa scene.
Mungkin movie R..Rajkumar ni tak sesuai untuk tontonan umum disebabkan berlatarbelakangkan suasana kehidupan samseng dan penjual dadah bila mana ada scene pergaduhan yang melampau, rogol, dadah dan makian. But in terms of entertainment level, the team deliver their best.
1. Team Production +1, 2. Visual +1, 3. Audio +1, 4. Storyline +1, 5. Casting +1, 6. Genre +1, 7. Themes +1, 8. Editing +1, 9. Social Message +1, 10. Personal Thought +1 = 10/10