Last week masa beli groceries dekat NSK ternampak winter aktif sangat dekat kedai pet. She's full of drama and hyperactive so decided nak bela seekor sebab comel sangat.
Staff petshop tu pun cakap sekejap je dah jinak and sangat senang nak jaga. Dah beli sekor rasa kesian pulak kalau tak ada kawan so kitorang beli sepasang. Yang jantan pun lebh kurang je hyper dia.
Since staff pet shop tu letak winter dalam box je, so kitorang pun malas nak beli cage and decide letak dalam A4 box and that was a foolish mistake by us. Sebab diorang tebuk lubang sampai rabak kotak tu.
Nasib baik dah beli cage dekat Shopee tapi yang betina tu dah terlepas dah. Rasanya dah jauh dah dia lari. Entah hidup entah tidak. Yang jantan tu nasib baik lah sempat jumpa sebab dia pusing-pusing dalam rumah je.
Semalam kitorang habiskan masa lama jugak lah pasang cage tu sebab cincai je potongan dia. Nasib baik menjadi jugak sangkar dia. Tapi tak lama pun winter jantan tu stay dalam sangkar sebab balik dari tengok wayang tadi, dah melayang dah bumbung rumah tu ditendangnya.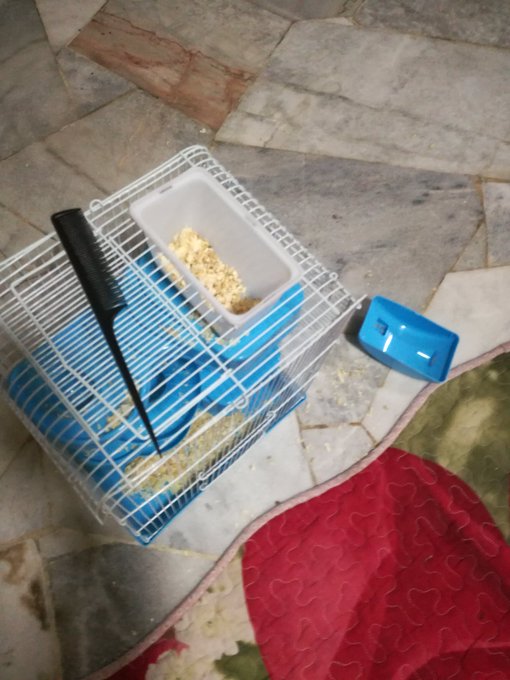 Winter jantan tu pun dah lari entah ke mana. Punya lah terseksa hidup dengan kitorang sampai lari dari rumah when all we did was feeding them and give them a house to stay. Harap hidup menderita lah dekat luar tu. Itupun kalau hidup lagi lah.
Menyesal beli winter sebab habiskan RM50 untuk diorang. Entah lah nak bela lagi ataupun tak sebab bedding dengan makanan banyak lagi. Tak best pun bela sebab tak boleh diajak main atau peluk macam kucing.