Kecoh masa awal bulan haritu tentang Priyanka kurang ajar dengan Ayesha yang suarakan tentang betapa hipokritnya Priyanka sebagai duta UN tapi support nuclear war dengan tweet Jai Hind #IndianArmedForces.
You guys boleh tengok video tu di sini.
"You are a UNICEF ambassador for peace, and you're encouraging nuclear war against Pakistan."

This was the moment Indian actress Priyanka Chopra was confronted by a Pakistani-American woman, who called her a "hypocrite" over her pro-army tweet.

pic.twitter.com/2N7WIBxEdZ

— Al Jazeera English (@AJEnglish) August 21, 2019
Though I dislike how Priyanka react to that girl tapi kalau diikutkan Ayesha agak kurang ajar at the first place. Tak faham macam mana Ayesha boleh tuduh Priyanka support nuclear war sedangkan Priyanka cuma tweet Jai Hind.
Back in February 2019, satu serangan dari pihak terrorist mengorbankan 40 orang askar di Pulwama. Disebabkan hal ni, PM India, Narendra Modi minta penjelasan dari PM Pakistan, Imran Khan tapi PM Pakistan gagal kemukakan bukti dia tak sumbangkan dana kepada puak terrorist Jaesh-E-Mohammad.
Imran Khan mengaku sebanyak 30,000 hingga 40,000 orang terrorist di Pakistan dan 40 kumpulan aktif di sempadan.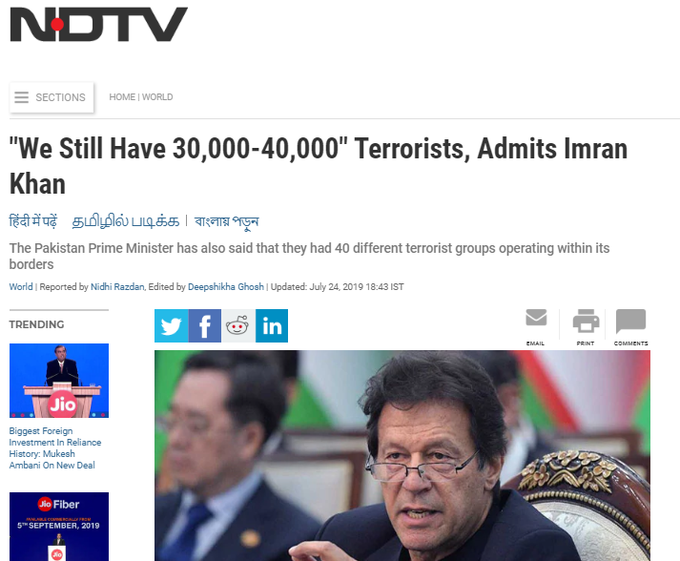 Negara India nak berperang dengan terrorist bukannya dengan negara Pakistan bila Pakistan sendiri gagal kawal masalah ni. Susulan dari kematian 40 askar India, tentera udara hantar 2 jet pejuang untuk bom kem terrorist di Balakot. Malangnya satu pesawat ditembak dan terhempas di negara Pakistan.
Lepas 9 hari ditahan dan Konvensyen Geneva melarang sebarang tindakan ganas ke atas pilot India, pihak Pakistan setuju untuk lepaskan Komander Abhinandan tapi serangan terhadap Priyanka bermula bila dia dan beberapa rakan artis lega bila Komander selamat pulang ke India.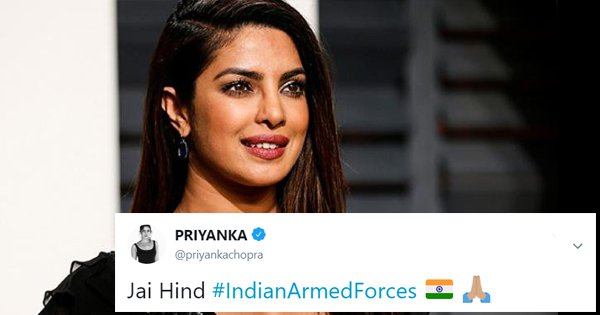 Beberapa petition mula keluar supaya Priyanka dibuang dari menjadi duta UN cuma bezanya petition pada bulan Mac yang disokong oleh 90,000 orang ni menggunakan alasan Priyanka support Pakistan bombing.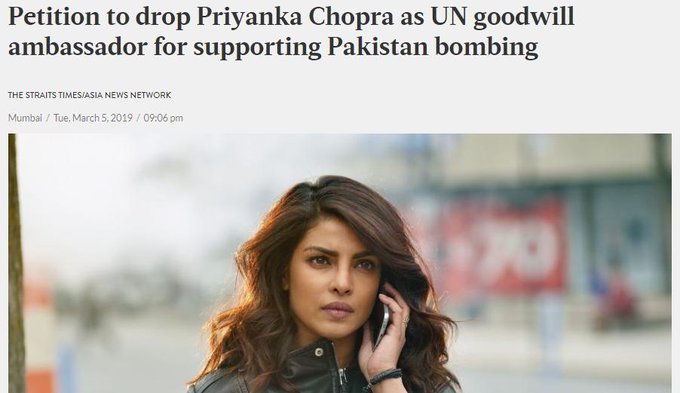 Masuk bulan Ogos, berubah kepada support nuclear war bila Imran Khan mention tentang nuclear war untuk buktikan kemampuan ketenteraan Pakistan. India ada 'No First Use' policy sejak tahun 1988 walaupun military forces negara India lebih kuat dan nuklear lebih hebat.
Hari Komander Abhinandan antara hari yang gembira untuk rakyat India. Bukan setakat Priyanka je yang tweet Jai Hind tapi ramai lagi selebriti lain yang tweet Jai Hind especially Amitabh Bachchan yang juga duta India dan duta UNICEF.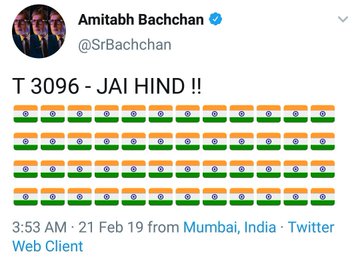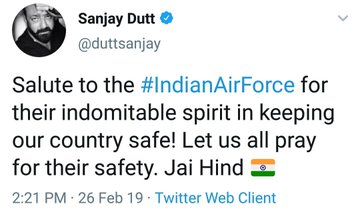 So agak melampau lah kalau Ayesha pergi ke public event untuk tuduh Priyanka support nuclear war sedangkan Pakistan yang mulakan dulu pasal nuclear war. Kalau dia rasa Priyanka hipokrit sebab tweet Jai Hind, jadi kenapa dia boleh bergurau tentang perang?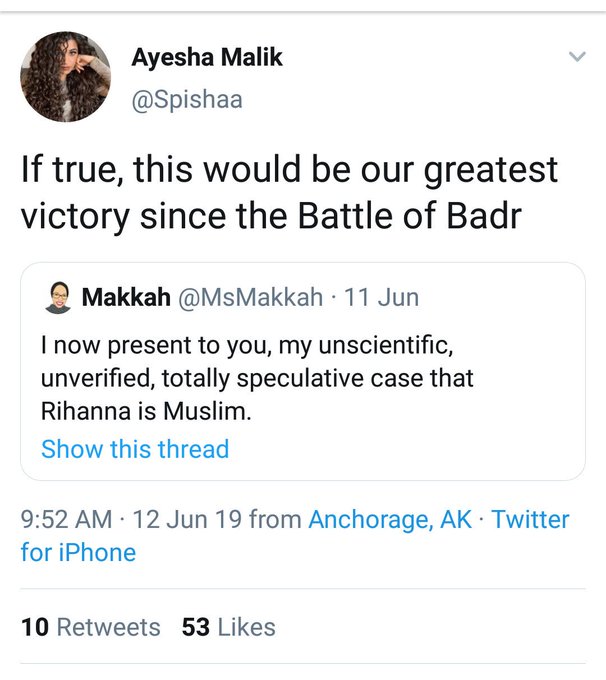 Bila UN ignore petition awal dan kes Ayesha, so Kerajaan Pakistan secara rasminya hantar surat ke UN HQ dan minta supaya Priyanka dibuang sebagai duta.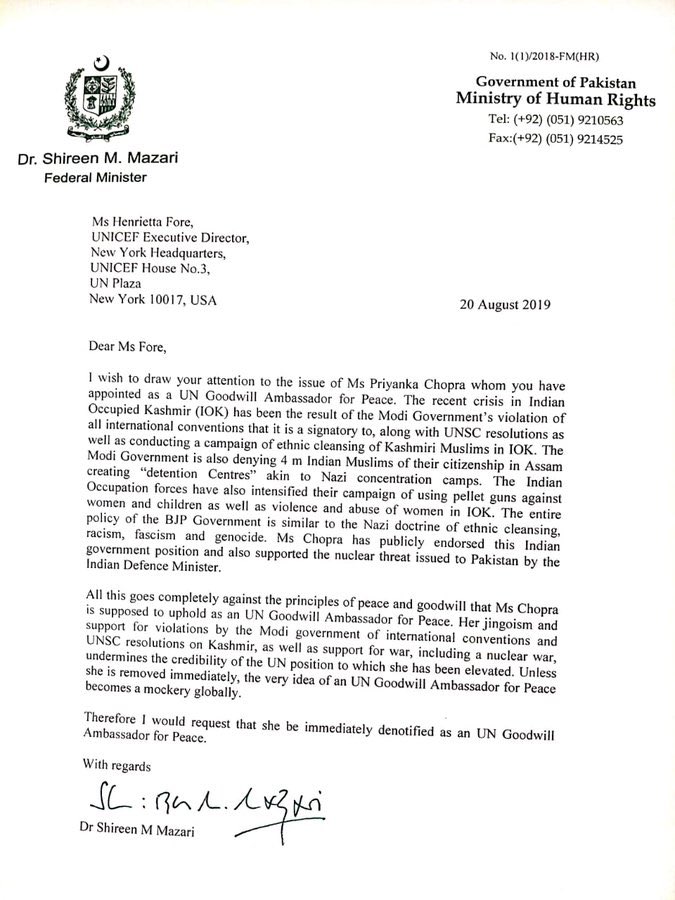 But thankfully UN dah keluar statement menolak permintaan Pakistan sebab tweet Jai Hind Priyanka tak ada unsur menyokong tindakan nuclear war dan bersifat patriotik kepada negara adalah hak peribadi Priyanka dan tak mewakili UNICEF.