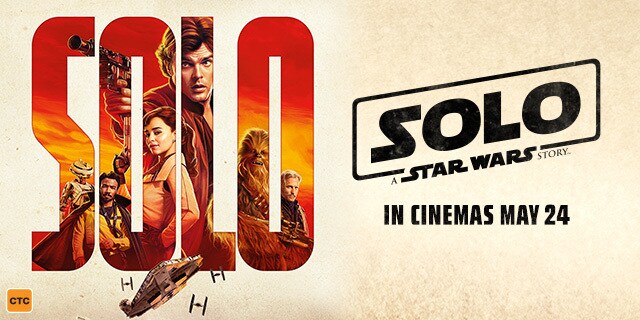 Director : Ron Howard
Cast : Alden Ehrenreich, Woody Harrelson, Emilia Clarke, Donald Glover, Thandie Newton, Phoebe Waller-Bridge, Joonas Suotamo, Paul Bettany
Production Company : Lucasfilm Ltd.
Genre : Sci-fi/Adventure/Action
Running Time : 135 minutes
Release Date : 23 May 2018
Trailer :
I'm not a fan of Star Wars but thank God this movie tak relate banyak sangat dengan movie-movie dalam franchise Star Wars. This is where you get to know one of the main character in Star Wars, Han Solo during his young age. Since tak pernah tengok star Wars so this review basically about this movie only.
Han (Alden Ehrenreich) tinggal di planet Corellia sebagai penyeludup yang berhutang besar dengan Ratu Corellia, Lady Proxima (Linda Hunt). I bet not only Han but most of them akan mencuri atau cari barang yang boleh buat Ratu impress. By luck, Han terjumpa benda yang paling berharga di seluruh galaksi which is Coaxium. Dengan adanya Coaxium, Han boleh keluar dari Corellia dan hidup bebas bersama awek dia, Qi'ra (Emilia Clarke).
Tapi rancangan gagal bila pengawal Imperial berjaya tangkap Qi'ra sebelum melepasi pintu utama untuk ke planet lain. Han berjanji untuk datang kembali kepada Qi'ra but still Han tak ada tiket dan pengawal Imperial masih lagi memburu so he join Imperial Navy sebab cita-cita Han adalah untuk menjadi seorang juruterbang.
Lepas 3 tahun, Han masih lagi gagal dengan misi hidup dia. Bukan takat tu je, Han gagal jadi juruterbang disebabkan ingkar arahan superior so dia dibuang ke medan perang bersama askar lain untuk menakluk planet Medan. Di sana dia berjumpa dengan geng perompak Coaxium – Beckett (Woody Harrelson), Val (Thandie Newton) & Rio (Jon Favreau).
Han cuba yakinkan Beckett untuk join kumpulan diorang dengan kebolehan yang dia ada tapi gagal kemudian dicampak ke sangkar Wookie sebagai hukuman. Disebabkan Han pandai berbahasa Shyriiwook, Han dengan Chewbacca (Joonas Suotamo) menjadi kawan dan diterima masuk team Beckett. Misi Beckett ialah untuk mencuri satu gerabak Coaxium dan hantar kepada Dryden Vos (Paul Bettany) tapi sayangnya gagal bila team Nest mempunyai misi yang sama.
Beckett, Han dan Chewbacca terpaksa berjumpa dengan Dryden Vos untuk tebus kembali kegagalan mendapatkan Coaxium and interestingly after 3 years, Han berjumpa dengan Qi'ra sebagai pembantu Dryden Vos. Tak ada jalan untuk tebus kegagalan tapi Han cadangkan untuk curi Coaxium mentah di Kessel. Walaupun idea Han agak tak logik sebab Coaxium hanya mampu bertahan dalam suhu tertentu or else dia akan meletup but still Dryden Vos terima idea Han dan mengarahkan Qi'ra untuk join team diorang thus leads them to meet Lando (Donald Glover) & L3 (Phoebe Waller-Bridge). Berjaya atau tak diorang mencuri Coaxium mentah, you guys have to watch it.
For a great franchise like Star Wars in Hollywood, audio dan visual aren't really a problem plus this movie under Disney Studios so yupp its like the eye feast watching them fighting with lasergun and saber knife tambah pula dekat scene team Beckett curi gerabak Coaxium, scene curi Coaxium mentah dan scene Qi'ra fight dekat hujung movie. Not to mention scene Han dengan Chewbacca take over The Millenium Falcon, kapal terbaik Lando.
Jalan cerita for me biasa & quite simple, tak ada pun macam wow moment tambah pula bila kebanyakan comedy scene dalam movie quite typical dan hambar. Krik krik most of the time dalam hall. Even plot twist pun predictable but still I developed some interest to watch the whole series of Star Wars and know more about this epic brand disebabkan character Han. He's witty, smart and sneaky also character Qi'ra pun still lagi misteri bila dia berubah dalam jangkamasa 3 tahun terpisah dengan Han and end up terjerat dengan Dryden Vos dan Darth Maul (Ray Park).
1. Team Production +1, 2. Visual +1, 3. Audio +1, 4. Storyline +0.5, 5. Casting +1, 6. Genre +1, 7. Themes +1, 8. Editing +0.7, 9. Social Message +0.5, 10. Personal Thought +0.5 = 8.2/10