Setiap tahun Bollywood actress akan pergi ke Festival Film Cannes sebagai duta ataupun untuk promosikan movie terbaru diorang tapi antara yang memang setiap tahun wajib pergi sana ialah duta L'oreal - Aishwarya Rai & Sonam Kapoor. Katrina Kaif pernah sekali je buat appearance sebagai duta L'oreal kemudian digantikan dengan Deepika Padukone tahun 2017. Meanwhile Mahira Khan sebagai duta baru untuk L'oreal Pakistan.


Tahun ni agak meriah sebab dah bertambah actress yang jadi duta produk selain L'oreal. Huma Qureshi dengan Kangana Ranaut debut untuk pertama kali di Cannes untuk duta arak jenama Grey Goose tahun 2018.

Just like every year memang Film Festival Cannes antara acara yang paling dinantikan sangat sebab nak tengok selection outfit Sonam Kapoor because she's my fav and she's a Bollywood fashion icon. Tapi tahun ni dia macam tak menyerlah sangat maybe sebab busy dengan wedding ceremony dia unlike Deepika, Kangana & Huma memasing datang dengan idea kreatif dan outfit the bomb. So here's my top pick for fav appearance at Cannes 2018.
1. Sonam Kapoor in Ralph Russo
Can't deny she's still on top because the way Ralph & Russo design this Indian outfit. Hiasan manik bunga di lehenga putih gading yang ditenun menggunakan 43,000 kristal Swarovski dan mengambil masa selama 9,500 jam untuk disiapkan sebelum festival Cannes. Since Sonam ialah muse kepada juara jenama terbaik di London, Ralph & Russo and she's recently got married with Anand Ahuja, so RR decided untuk sediakan a look alike wedding dress untuk Sonam and here it is. I'm impressed!
Another beautiful attraction dengan outfit ni ialah hair accessories, custom-made parandi dari Amrapali Jewels yang diperbuat dari ratusan manik dan dihiasi dengan batu berwarna emas di setiap tingkat.
2. Deepika Padukone in Zuhair Murad
Banyak perbezaan untuk style Deepika berbanding tahun ni dan tahun lepas. Kalau tahun lepas Deepika cuma menyerlah dalam dress Marchesa berwarna ungu gelap tapi tahun ni semua outfit and style dia menyerlah. I guess she's already know how to play the game at Cannes. This is the most fav outfit from her wardrobe and she looks like a desi fallen angel.
This sheer frosty white luxe gown is from Zuhair Murad Bridal Fall 2018's collection, comes along with beautiful attached floral nearly translucent fabric cape. Dress ni dah serlahkan kecantikan Deepika ditambah pula dengan nude makeup with deep curl hairstyle, diserikan dengan anting-anting berlian dari Lorraine Schwartz and some accessories from Ofira.
But on that day movie Sorry Angel's premiere, bukan Deepika seorang je yang pakai dress dengan design yang lebih kurang sama, pelakon Thai, Araya Hargate pun pilih nearly translucent fabric with cape dari collection Ralph & Russo yang diinspirasikan dari perkahwinan Meghan Markle but I just love Deepika's dress better sebab hiasan bunga timbul lebih menyerlah plus cape Deepika kembang terletak elok and makes her goes with the angel theme.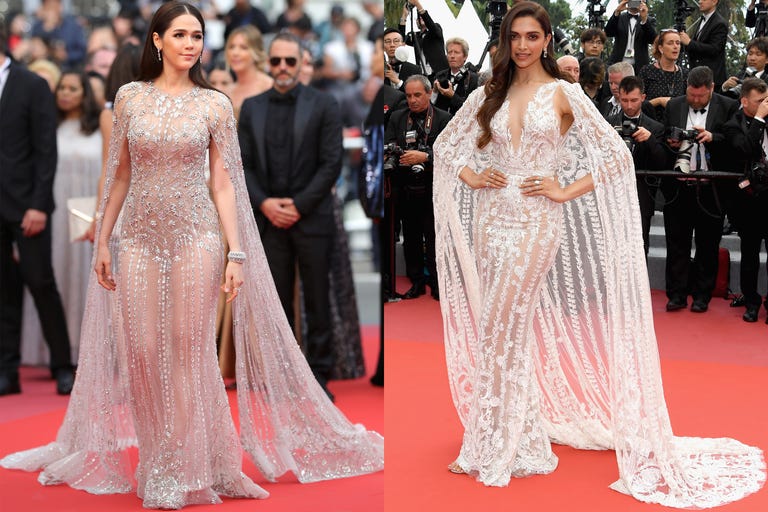 3. Deepika Padukone in Monique Lhuillier
Like I said earlier, this year Deepika memang leveled up her game and her wardrobe make me goes wow. So this is another fav from her wardrobe, a soft cream floral maxi dress from Monique Lhuillier collection. Thanks to her stylist, Deepika looks dreamy with her nude makeup and loose wavy hairstyle. One thing for sure, Deepika loos great when she let loose her hair because she have a beautiful hair so why she bun it? Don't!
Sama macam penampilan di red carpet, full-sleeved maxi casual dress ni pun ada cape which is great because its flowy and volume up her feminine shade. Earrings from Valliyan pun simple je which looks nice on her cuma heels dari Maison Valentino dia je tenggelam dengan dress ni.
4. Huma Qureshi in Elio Abou Fayssal & Ali Younes
First time debut dekat Cannes pun dah wow and I'm excited to watch more from Huma next year at Cannes 72th! Seriously terkejut sangat sebab selalunya Huma ni macam gagal sikit bab style and fashion bila dekat red carpet nak pula bila dia agak berisi but in this white gown from Elio Abou Fayssal collection and nude makeup with highlighted cheekbones, she looks amazing!
Updo hairstyle from Marcos gives way for her OutHouse earrings to shine, same goes for her delicate layered Swarovski necklace makes it perfect accessories on her body. High slit is a great choice to be matched with strappy stilettoes from Alexandre Birman.
Only the bad thing with messy bulky drape ni, nampak cantik dari sisi hadapan tapi bila dari bahagian tepi nampak Huma besar and somekind tenggelam dalam jubah silver tu. But still I love this outfit. A yeayy for me.
5. Kangana Ranaut in Sabyasachi
Although I'm not easily impressed with black outfit but this one is exception since Kangana don this Sabyasachi saree in a retro looks and makes her just a perfect resemblance of desi Audrey Hepburn or legendary Sharmila Tagore. Just like Huma, Kangana also nailed her debut appearance on red carpet at Cannes Film Festival.
Sari hitam ni diinspirasikan dari 'Akaash-Taara' ataupun langit yang berbintang so manik yang ada di sari ni dijahit sendiri oleh Sabyasachi menggunakan teknik zardosi untuk menghasilkan rupa yang agak keras tetapi sebenarnya lembut dan jatuh terletak elok di badan si pemakai.
Winged eye makeup, faux bob hairstyle and those precious 'Sabyasachi batua' and a 'teenmaniya' necklace from Sabyasachi Heritage Jewelry Collection which made from a Colombian emeralds and basra pearls are perfect combination from her stylist, Brendon Degee. Simple yet luxe.
6. Mahira Khan in Elan
Although Mahira wakil negara Pakistan but I just don't care since she's already debuted in Bollywood with SRK in Raees so she deserved top be in this list plus she's already play her game damn well. First look pun dah tertawan, I mean look at her in this Elan outfit!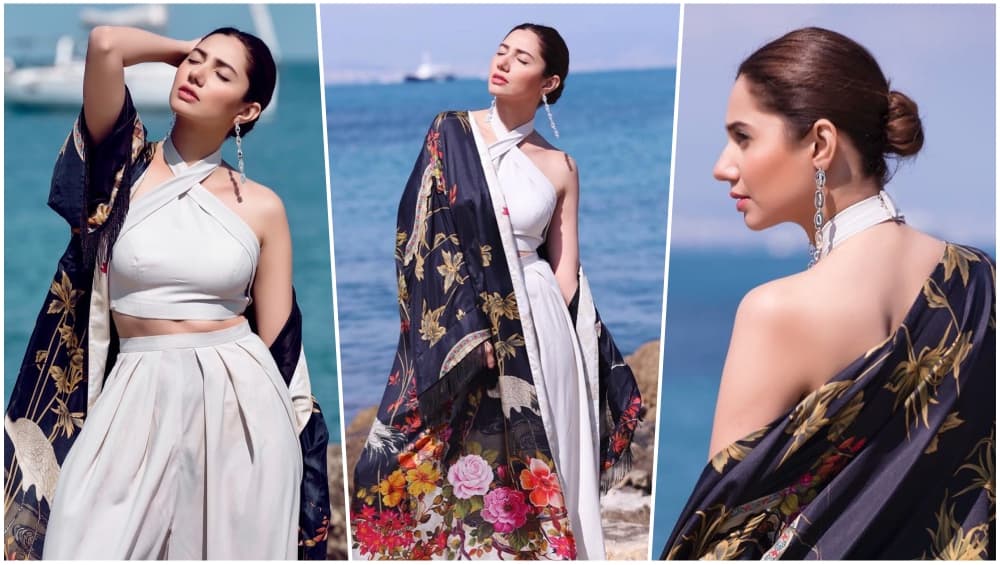 Wow factor in this looks is that halter-neck top and flared light beige top with harem pants paired with a royal blue floral printed dupatta enhanced with jewels by Zohra Rehman. Her long drop earrings and that minimal nude L'oreal makeup make Mahira looks like a diva. Perfect!
How about you guys? Which are your fav looks from these Bollywood actress? Ataupun ada yang tak ada dalam list ni? Can't wait for next year and I really hope Sonam will step up her game just like she did in 2017.