Director : Siddharth Malhotra
Cast : Rani Mukerji, Neeraj Kabi, Harsh Mayar, Ria Shukla, Shivkumar Subramaniam, Hussain Dalal, Sparsh Khanchandani, Sachin Pilgaonkar
Production Company : Yash Raj Films
Distributor : Yash Raj Films
Genre : Drama/Comedy
Running Time : 116 minutes
Release Date : 23 March 2018
Trailer :


Kalau movie Taare Zameen Par mengisahkan tentang dyslexia yang dihidapi oleh seorang pelajar kemudian dibantu oleh gurunya untuk berjaya, Hichki pula yang diadaptasi dari buku autobiografi Brad Cohen bertajuk Front of the Class: How Tourette Syndrome Made Me the Teacher I Never Had yang menyelami kehidupan seorang guru yang mempunyai sindrom neurologi, Tourette dan membantu 14 orang pelajar kelas belakang untuk lulus dalam peperiksaan dan buktikan yang pelajar miskin mampu mencapai kejayaan sama seperti pelajar lain.
Dengan tema 'Tak ada pelajar yang teruk tapi hanya guru yang teruk', Hichki ketengahkan hasil perbezaan didikan guru yang baik dan hasil didikan guru yang mementingkan status semata which you guys can see clearly dalam karakter Mr. Wadia (Neeraj Kabi), guru kelas 9A. Selepas 18 kali permohonan untuk bekerja sebagai guru, Naina Mathur (Rani Mukherjee) diterima di sekolah berprestij, St. Notker's School untuk menjadi guru kelas 9F.
Walaupun movie Hichki agak cliché, mampu ubah pelajar kelas belakang yang degil dan nakal kepada pelajar yang mampu lulus dalam peperiksaan tapi Hichki mempunyai jalan ceritanya yang tersendiri. I really love the way Naina teach her students since all of them datang dari golongan berpendapatan rendah dan semua bekerja sambil belajar so Naina aplikasikan subjek mengajar dalam aktiviti harian pelajar-pelajarnya.
Macam topik Parabola menggunakan lontaran telur rebus, topik kinetic Fizik dengan bermain basketball, Another scene dimana Naina point out kelebihan students dia dalam aktiviti harian diorang macam Ravinder yang power dalam Maths sebab conduct illegal gambling setiap hari, Killam tahu tentang Fizik sebab berkerja di bengkel kereta, Tamannah tahu tentang Kimia sebab berniaga di gerai makan dan banyak lagi scene lain yang tonjolkan keseronokan dalam belajar.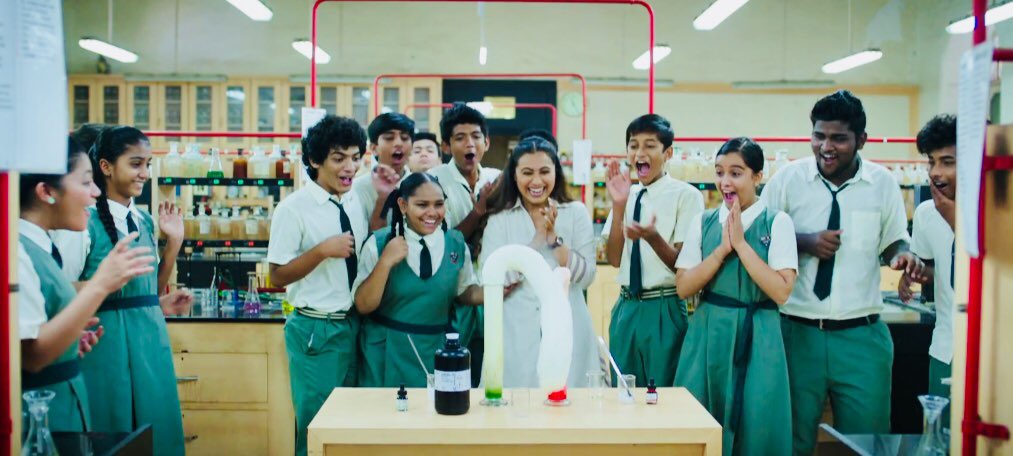 Tapi dalam seronok belajar tu tetap ada masalah di sekolah baik dari pihak sekolah mahupun dari pelajar 9F tu sendiri sampai diorang terpaksa digantung sekolah sehingga hari peperiksaan. Even lepas peperiksaan pun masalah tak habis lagi since diorang kantoi meniru kertas peperiksaan yang dibocorkan oleh penjaga sekolah, Shyamlal (Asif Basra) dengan harapan pelajar 9F yang datang dari golongan pendapatan rendah ni akan dihapuskan selamanya supaya sekolah cuma layak untuk pelajar pandai dan pendapatan sederhana dan atasan kerana bagi diorang golongan kelas ketiga tak perlu belajar dan takkan minat untuk belajar lebih daripada keperluan untuk mencari sumber rezeki.
You guys will have fun watching Naina and her students but at the same time feel emotional since they're stuck in their poverty life. Diorang nak berubah tapi keadaan sekeliling buat diorang terpaksa buang impian tu. Emosi jugak tengok masa diorang datang jumpa Naina dekat kedai untuk pujuk Naina jadi guru diorang balik.
Despite having tipical storyline but the dialogue is great plus Rani makes it convincing either. Sama macam lakonan dia sebagai pesakit Tourette yang sentiasa ada hiccup dan keluarkan bunyi wak-wak-wak or chak-chak-chak tambah bila dia stress or nervous bunyi ni akan keluar lebih kerap so Naina akan ketuk dagu dia untuk hentikan bunyi tu. Part dia menangis dia akan sumbat tisu dalam mulut supaya tak berbunyi so nobody will know she's crying at place she's hiding. I guess we already have a winner for Best Actress this year.
p/s : Siapa pelakon ni ya tuhannnn handsome teruk!
1. Team Production +1, 2. Visual +0.6, 3. Audio +0.5, 4. Storyline +0.8, 5. Casting +1, 6. Genre +1, 7. Themes +1, 8. Editing +0.7, 9. Social Message +1, 10. Personal Thought +1 = 8.6/10