I tak tahu pun Tealive launch Strawless Reusable Bubble Tea Cup and this reusable cup adalah yang pertama di Malaysia. Objektifnya untuk kurangkan penggunaan plastic cup bila boba tea jadi viral dan makin mencanak penggunaan plastic cup.
So Tealive ambil inisiatif Go Green dengan reusable cup ni dan dalam masa yang sama mengelakkan penggunaan straw untuk selamatkan penyu. Sebelum ni guna straw kertas tapi macam tak syok sebab mudah basah dan lembik bila lambat habiskan minuman kita.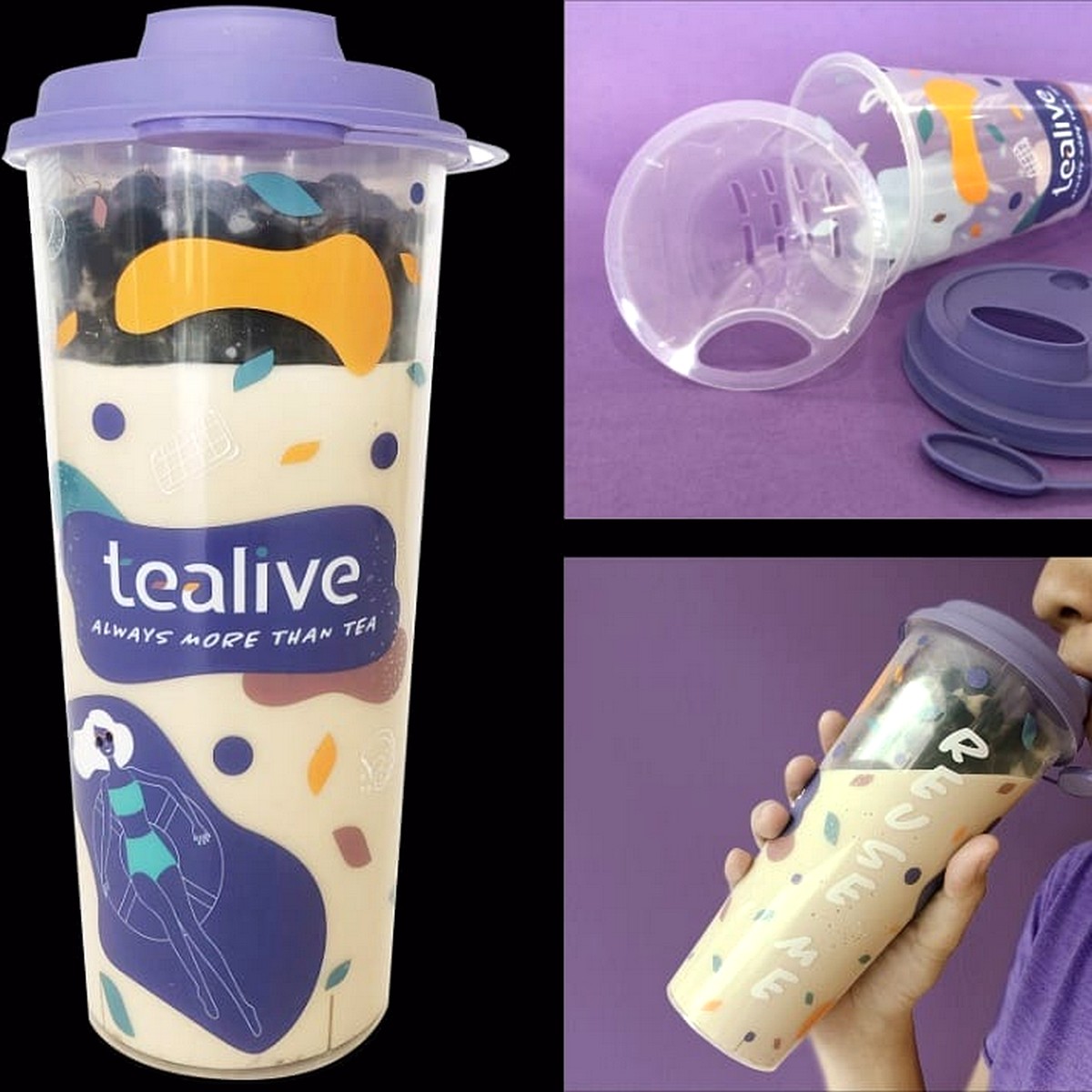 So now minum terus dari cup je. And this is mine!!
Untuk dapatkan reusable strawless cup ni you guys cuma perlu tambah RM4 je dari harga drinks pilihan. I happy la dapat cup ni sebab warna purple warna fav I. Dekat belah dalam macam ada penapis untuk dia letak boba or grass jelly. Which is sooooooo convenience lah sebabnya tak perlu risau dah air habis tapi boba/grass jelly tak habis lagi. If that case happened, macam mana nak makan the remainings sebab takde straw nak kaut kan? Bijak betul Tealive...
Dekat cup ni ada 2 lubang dekat lid cup tu. Kalau drinks ada boba I think better guna yang besar tu lah. Since my drinks ada grass jelly je so I minum dari lubang yang kecil je tapi macam tak syok sangat sebab tak ada udara when suction process happened. So mulut akan melekat lol
Tak syok tak syok pun dah 3 kali guna dah and I put this reusable cup dekat office buat tumbler minum air putih. I tak pernah lagi try bawa reusable cup ni ke Tealive so I tak tahu acceptable ke tak. Tapi mesti lah acceptable kan sebab tu objektif utama dia launch reusable cup under Eco series ni? Hshshs.....
Strawless reusable cup Tealive ni limited je tau so siapa lambat dia tak dapat lah cerita dia. Tengok dekat Shopee ada tumbler yang mahal tu je. Yang tu pun macam cun jugak kalau buat koleksi hihi