Dalam industri Bollywood, catfight antara heroin atau hero memang perkara biasa. Ada yang berbaik lepas beberapa tahun, ada yang dah meningkat usia pun masih lagi bergaduh dan mungkin pergaduhan antara Kangana Ranaut dengan Deepika Padukone pun akan berlarutan sampai salah seorang mengalah.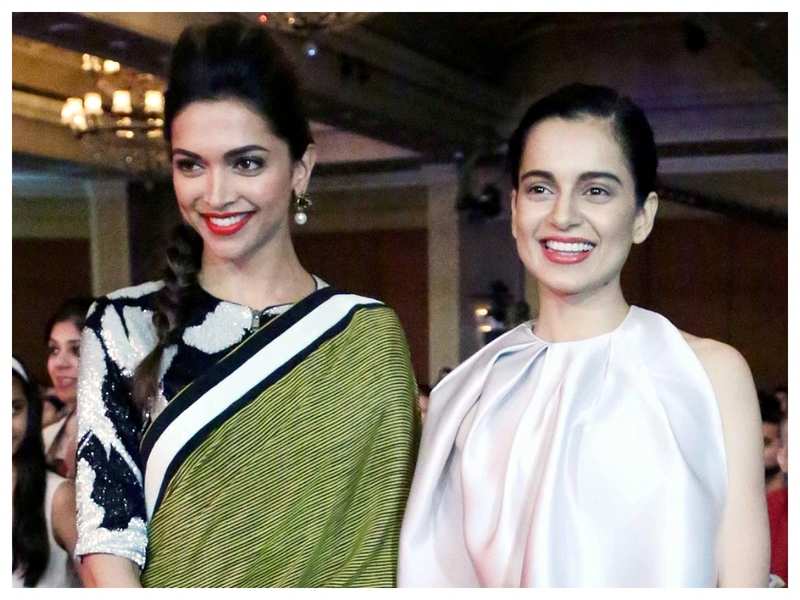 Kangana dan Deepika tak pernah pun berlakon sekali tapi masing-masing meningkat naik pada tahun yang lebih kurang sama.
1. 2014 : Best Actress Award
Pada tahun 2014, nama Kangana dinobatkan sebagai pelakon wanita terbaik untuk movie Queen tapi di 21st LifeOK Screen Awards, Deepika menang Best Actress untuk movie Happy New Year. Agak merepek lah sebab watak tu tak berkualiti langsung dan semua pun sedia maklum yang Deepika ni suka beli award.
Tapi bukan sebab kemenangan Deepika yang jadi isu, ucapan Deepika yang merepek bila dia dedicated award tu kepada Kangana untuk performance dia dalam Queen.
"Thank you for this award, but I believe that this year belonged to Kangana [Ranaut]. So, Kangana, this one's for you." - Deepika Padukone
Bila media tanya Kangana tentang ucapan Deepika, Kangana balas dengan
"Yes, I heard about that, but I hope someday, she would tell me in person what she feels about my work. I would appreciate that a lot more." - Kangana Ranaut
Tambah Kangana, pelakon-pelakon lain Shah Rukh Khan, Salman Khan, Aamir Khan, Amitabh Bachchan dan Priyanka Chopra call dia ucap tahniah tapi Deepika tak pernah so dia rasa apa perlunya dedicated award depan media walhal boleh ucap sendiri?
Tak lama lepastu Deepika pun call dan Kangana bagitahu media pasal ni. Dia kata dia pun nak lupakan apa yang jadi sebab dia nak Deepika faham tak adil Deepika cakap macam tu sebab semua orang tahu Kangana dah boikot award event. Kangana bagitahu media yang Deepika berani perbetulkan keadaan, emotional dan dia suka sikap Deepika.
Bila media tanya Deepika tentang hal ni, Deepika kata tak perlu kecoh sangat tentang personal conversation antara dua actress.
2. 2015: Tanu Weds Manu Returns Screening
Deepika mula berbaik dengan Kangana dan hantar special invitation untuk premiere screening movie Piku dan juga success party bash.
Tapi tak lama selepas tu bila Kangana invite Deepika ke Tanu Weds Manu screening, Deepika tak dapat datang dan tak balas RSVP. Bila media tanya Kangana tentang hal ni, Kangana kata dia selalu support contemporaries dia tapi kecewa lah bila dia tak dapat layanan yang sama dari mereka.
3. 2016 : Irrelevant Remarks
Tahun 2016 Deepika curah minyak bila dia jawab hal pergaduhan dia dengan Kangana bila dia kata 'what people think is really irrelevant'. Kangana meloncat lah bila media bagitahu hal ni. Dia jawab balik dalam interview dia dengan Miss Malini untuk promote movie Katti Batti.
Really!! She said that? Then why she makes these desperate calls to paint a parallel reality and sends never ending cunning texts to invite me for her trials and parties? Well, she seems rather invested in the irrelevant stuff. :)) - Kangana Ranaut
4. 2017 : Highest Paid Actress
PR Deepika buat kerja dengan hebahkan berita Deepika dibayar Rs15 crore untuk watak dia dalam movie Padmavaat dan upah tu adalah yang paling tinggi untuk actress. Kangana pula tak duduk diam bila PR dia hebahkan yang Kangana dibayar Rs 15 crore untuk movie Manikarnika : The Queen of Jhansi dan Rs24 crore untuk movie biopic Thalaivi. Walhal bayaran Kangana untuk satu movie sebelum ni cuma Rs5 hingga Rs6 crore.
5. 2019 : Mental Health Smear Campaign
Beberapa bulan sebelum movie Mental Hai Kya lakonan Kangana dan Rajkummar Rao ditayang, The Live Love Laugh Foundation (TLLL Foundation) milik Deepika hantar notis kepada Indian Medical Association (IMA) dan Indian Psychiatric Society (IPS) supaya Balaji Films ubah tajuk yang tak sensitif kepada pesakit mental.
Walhal movie Mental Hai Kya memang mengisahkan tentang pesakit depression dan ketengahkan isu sakit mental. Peliknya lagu Psycho Saiyaan tak dihantar sebarang notis walhal lirik agak mengundang.
Kakak Kangana, Rangoli tweet supaya tak hentam movie ni sebelum tengok dan minta supaya TLLL tukar duta kepada Kangana Ranaut sebab Deepika dah boleh berhenti jual naratif depression lepas breakup dengan Ranbir Kapoor dan berkahwin dengan Ranveer Singh. Tapi kenyataan Rangoli tampak dangkal bila Deepika merupakan founder kepada TLLL dan bukan sekadar duta.
Latest news, Deepika akan berlakon dengan SRK dalam movie bertajuk Sanki (Gila).
6. 2020 : JNU, Tik Tok, Repeat After Me...
January 2020, Deepika melawat keadaan students
Jawaharlal Nehru University selepas mereka diserang samseng bertopeng sehingga mecetuskan rusuhan. Ada yang memuji tindakan Deepika, malah ada juga yang mengecam bila tindakan dia lebih kepada publicity stunt untuk movie Chappak.
Kangana turut bersuara untuk isu ni bila dia bagitahu media yang Deepika sedia maklum akibat dari tindakan dia tapi kalau dia diberi pilihan, dia takkan berpihak kepada anti-national yang menyokong terrorism.
Tak lama kemudian Deepika promote movie Chhapaak yang bertemakan acid attack di medium Tik Tok dengan makeup artist untuk recreate poster look Deepika. Disebabkan video tersebut, Kangana yang awalnya menyokong Deepika ketengahkan isu acid attack mula berubah hati dan minta Deepika buat permohonan maaf kerana tak sensitif. Rangoli adalah mangsa acid attack dan Kangana harap Deepika mengaku silap sebab semua pun buat silap. Deepika dan team production Chhapaak diam berhubung isu ni walaupun ramai yang bash di socmed.
Jun 2020, Kangana tempelak tweet Deepika bila dia naikkan isu paparazzi yang tak sensitif dengan keluarga Sushant bila merakam video demi mengejar rating. Kangana pertikaikan kenapa Deepika persoalkan paparazzi yang menyokong Kangana sedangkan paparazzi lain yang terima bayaran dari Deepika pun buat perkara yang sama.
Julai 2020 - Kangana persoalkan kempen 'Repeat After Me' yang dimuatnaik di socmed Deepika sejurus selepas kematian Sushant dek kerana kemurungan.
Ogos 2020 - Kangana muat naik status bagitahu yang PR company Deepika dan juga Hrithik Roshan - Spice lancarkan smear campaign terhadap dia dan burukkan imej Kangana dalam industri. Dia attack bertubi-tubi tentang depression sementara Deepika tetap diam dan tak keluarkan apa-apa statement langsung.
Hopefully lepas motif pembunuhan didedahkan oleh pihak CBI, Deepika akan minta maaf berkenaan isu Repeat After Me. Dan juga berhenti gunakan TLLL Foundation untuk attack contemporaries dan actress lain.