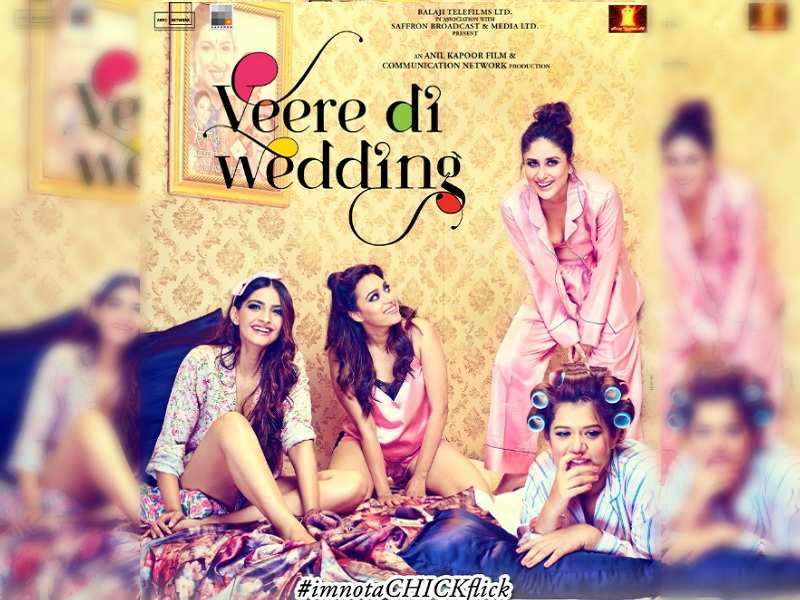 Director : Shashanka Ghosh
Writer : Nidhi Mehra, Mehul Suri
Cast : Kareena Kapoor, Sonam Kapoor Ahuja, Swara Bhaskar, Shikha Talsania, Sumeet Vyas, Vishwas Kini, Ishwak Singh, Edward Sonnenblick, Anjum Rajabali, Neena Gupta, Ayesha Raza, Vivek Mushran, Vivek Mushran, Alka Kaushal
Production Company : Balaji Motion Pictures, Anil Kapoor Films & Communication Network, Saffron Broadcast & Media
Genre : Comedy/Drama
Running Time : 125 minutes
Release Date : 1st June 2018
Trailer :
VDW mengisahkan kehidupan 4 sekawan, Kalandi (Kareena Kapoor Khan), Avni (Sonam Kapoor Ahuja), Shakshi Soni (Shwara Bhaskar) dan juga Meera Singh (Shikha Talsania) bertemu kembali setelah 10 tahun berhubung melalui Skype dan jalani kehidupan masing-masing yang huru-hara. Watak utama, Kalandi yang takut dengan perkahwinan kerana rumahtangga ibu bapanya yang berantakan akhirnya setuju untuk berkahwin dengan kekasih hatinya, Rishabh selepas 3 tahun tinggal bersama.
Dalam sibuk dengan persiapan perkahwinan bersama bakal ibu mertuanya, Kalandi masih lagi ragu-ragu sama ada dia perlu teruskan perkahwinan tersebut ataupun tak. Dalam masa yang sama, Avni cuba untuk merapatkan hubungannya dengan Nirmal, lelaki anak mak yang dikenalinya di dating apps online kerana fed-up dengan bebelan maknya yang mahukan menantu dan cucu.


Shakshi pula lari dari suaminya dan ingin bercerai selepas 6 bulan berkahwin dalam satu majlis grand sehingga habis 50 juta rupees untuk perbelanjaan perkahwinan. Gara-gara stress dengan perangai suaminya,
dia bertukar menjadi kaki arak dan hisap weed untuk hilangkan stress makcik-makcik bawang.
Sementara Meera pula ada krisis keluarga bila dia dihalau keluar dari rumah bila dia memilih untuk berkahwin dengan John dan bukannya dengan pilihan keluarga. Walaupun sudah mempunyai anak, dia masih lagi merahsiakan dari pengetahuan keluarga kerana paranoid anaknya akan dikutuk. At the same time, Meera cuba untuk turunkan berat yang naik mendadak selepas beranak.


Since shooting lagi VDW team dah tekankan yang movie ni bukan a chick flick walaupun major plot berkenaan Kalandi berkahwin dengan Rishabh ditambah dengan kisah Avni yang mencari jodoh. Movie ni lebih tekankan tentang dilemma wanita yang dah berkerjaya dan pandangan-pandangan serong yang dilontarkan oleh masyarakat. Its feminist, yes but lack of emotional depth. Walaupun some dialogues are powerful tapi tak cukup kuat lagi untuk hadirkan rasa huru-hara dan serabut tu.


Walaupun movie ni agak modern dengan bahasa, cara hidup especially pakcik Kalandi yang gay tapi dia tak keluar dari norma masyarakat India yang masih lagi hidup bersama parents, arranged marriage, ritual pemujaan yang somehow mengarut and old school pada pandangan modernize children. I love how Shashanka Ghosh made all character wild but still respect and tolerate the folks. Selalunya kalau movie modern macamni memang langgar je semua.
One thing I really amazed with Rhea Kapoor haruslah wardrobe dia! Dari awal movie sampai habis memang happy sangat tengok semua outfit each character walaupun ada pakaian yang berulang but still looks amazing! Even pakai tshirt pun boleh nampak cool and swag, what a charmer Rhea! Fantastic job she did in this movie. Brownie points for Sonam's earrings. Everything looks extravagant plus with stunning visual especially at Phuket and Kalandi's wedding ceremony.


Music background pun main peranan jugak bila masuk lagu Tareefan dengan Bhangra De Sajda untuk certain scenes untuk kuatkan lagi feels tu. Lagu Veere serlahkan lagi chemistry 4 sekawan dalam lensa kamera walhal masing-masing baru start rapat dekat set except Sonam dengan Swara yang dah banyak kali berlakon sekali.
As a senior, Kareena can pull off Kalandi's character with ease, same goes to Swara just like in her Anarkali of Aarah. Fashionista like Avni is too easy for Sonam Kapoor but I'm gonna go gif hunting for her appearance since there's too many cute expressions she did onscreen. Aww goshhh she's so cute! Applause for Shikha for her stellar performance in VDW walaupun baru tapi dia berjaya tonjolkan watak Meera and hasn't been overshade by any star leads.
Tak recommend untuk semua yang tak mampu terima urban and wild lifestyle dalam VDW but for me it's a brave effort from the team to change the stigma of the society.
1. Team Production +1, 2. Visual +1, 3. Audio +1, 4. Storyline +0.6, 5. Casting +1, 6. Genre +1, 7. Themes +1, 8. Editing +0.7, 9. Social Message +0.8, 10. Personal Thought +0.7 = 8.8/10