Director : Apoorva Lakhia
Writer : Suresh Nair
Cast : Shraddha Kapoor, Siddhanth Kapoor, Ankur Bhatia, Samar Jai Singh, Daya Shankar Pandey
Genre : Biopic/Crime
Production company : Swiss Entertainment
Distributor : AA Films
Release date : 22 September 2017
Running Time : 124 minutes
Trailer :
Dawood Ibrahim merupakan seorang mafia paling berbahaya di India dari tahun 90-an sehingga lah sekarang, sama juga dengan adik perempuan kesayangannya, Haseena Parkar yang lebih dikenali sebagai Aapa (Godmother) di Bombay, India. Diadaptasikan dari kisah dan kejadian sebenar di hari perbicaraan Haseena untuk kes mengambil alih perniagaan haram abangnya, movie Haseena Parkar diarahkan oleh Apoorva Lakhia menceritakan tentang hubungan Dawood dan Haseena.
Walaupun beberapa karakter utama mengikut karakter sebenar tapi ada beberapa fakta yang telah diubah oleh team HP macam bilangan beradik Haseena pada hakikatnya mempunyai 10 orang beradik meanwhile in reel life, 12 orang. Tapi susah untuk nampak kesemua beradik kecuali part makan nasi beriani itupun sekali imbas je sebab dalam movie ni diorang fokus Haseena & Dawood.

And because of that Apoorva come up with the idea to cast real siblings, Shraddha & abang kandung dia, Siddhanth Kapoor untuk dapat chemistry tu onscreen tapi sayangnya both of them memang takde talent dalam berlakon and that's what make this movie flop really bad and hurt Shraddha's career.


Cuma ada certain part je Shraddha mampu carry watak Haseena tanpa dipaksa & nampak natural. Terutamanya scene dia bergaduh masa ambil air dengan part suami dia, Ibrahim Parkar mati. Menangis jugak lah part dia peluk anak sulung dia, Danish sebab nampak dia betul-betul takut sebab lepas kehilangan abang sulung dia, Dawood lepastu suami dia, Haseena memang kena kena hidup sendiri since parents dia kena jaga anak-anak yang lain. Lepas kahwin memang boleh kata jarang dia jumpa parents except abang-abang dia yang ambil berat.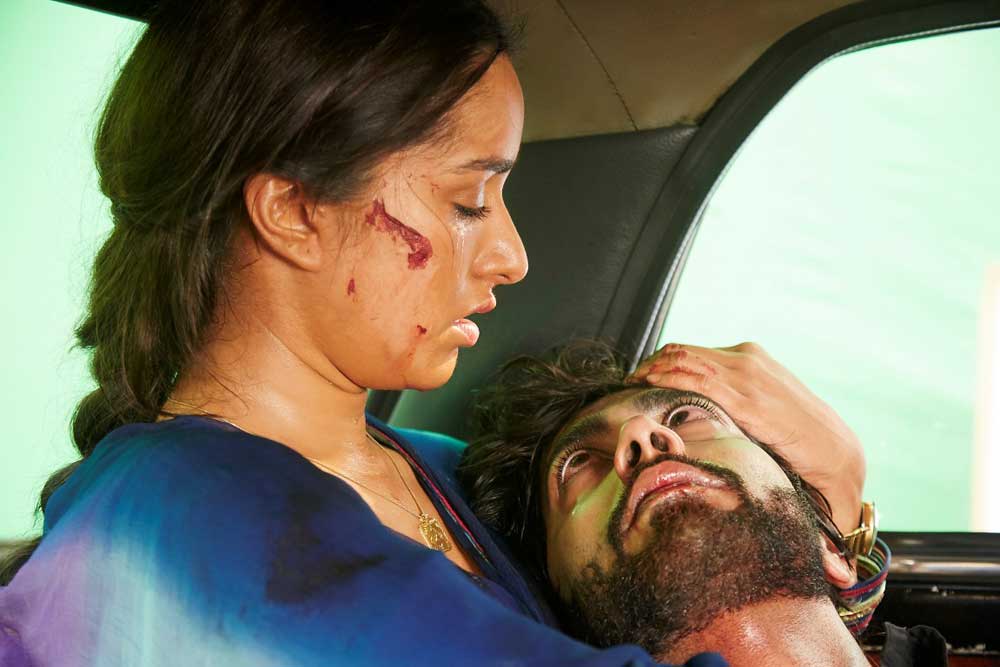 Tak lama kemudian pada tahun 1993 ada 10 letupan di Bombay and police have concluded dalang di sebalik letupan tu Dawood. Seminggu Haseena pergi balai polis untuk bantu siasatan sampai terabai anak-anak dia sampai satu tahap dia dah menyampah dengan caci maki perli polis dan orang sekeliling so dia guna nama abang dia untuk jadi Godmother supaya orang lain hormat dia dan anak-anak.
Tapi start dari sini fizikal Haseena berubah. Dari kulit gelap kurus kering jadi cerah dan berisi dengan makeup yang dark and heavy. Mulut Shraddha macam kena sumbat bola pingpong and it looks bad. Even cara jalan pun dia tak mampu nak buat nampak real and of course lakonan dia nampak terpaksa sangat since dia tak dapat rujukan macam mana Haseena in real life.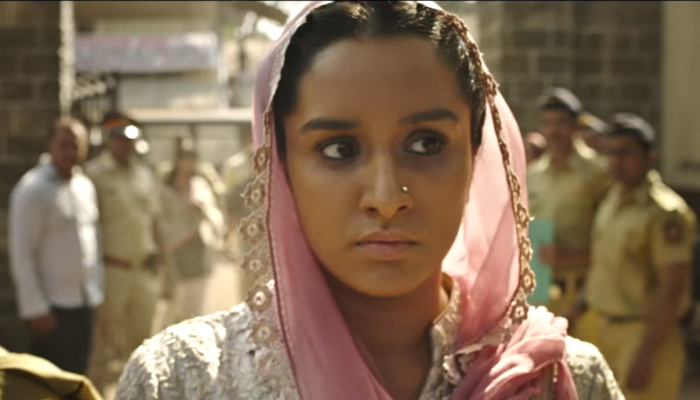 Either dia tak cukup masa untuk prep role, tak cukup bahan rujukan ataupun dia yang malas. Considering her negative attitude on set, I take pemalas for her failure in depicting Haseena Parkar sebab watak ni agak famous di India.
Scene dalam court pun huru-hara juga bila Mr. Keshwani dengan Mrs Satham kendalikan kes Haseena Parkar. Dialogue pun antara kelemahan movie Haseena Parkar ni. Tak pasti lah kalau kata-kata lawyer dan hakim diambil dari suasana sebenar but if its not then its a foolish attempt to create this movie at the first place. Movie ni boleh kata asal siap je.

But I really impressed with the visuals. Nak pulak masa letupan di Bombay tu memang cantik sangat. Perfect! Great job by Fasahat Khan and his team. Tapi part Dawood dekat Dubai tu nampak macam tak ada hala tuju. Like I said earlier, cincai.
Tak faham actually apa motif movie biopic Haseena Parkar ni, whether nak tunjukkan kehidupan Haseena dan kenapa dia boleh naik jadi Godmother di India & naikkan dia sebagai hero ataupun semata nak tunjuk hari perbicaraan Haseena but whatever the reason is, this team fail big time.
With slow pace, bad casting, bad direction and editing, worst dialogue, average music score, definitely not a great choice movie to watch. Haseena Parkar buktikan yang Shraddha tak mampu berlakon pun instead jadi watak pasu bunga. I wish Bhumi Pednekar yang berlakon because she fits the character well.
1. Team Production +0.5, 2. Visual +0.5, 3. Audio +0.3, 4. Storyline +0.5, 5. Casting +0.3, 6. Genre +0.6, 7. Themes +0.7, 8. Editing +0.5, 9. Social Message +0, 10. Personal Thought +0 = 3.9/10