Director : Ari Sandel
Cast : Adam DeVine, Robbie Amell, Alexandra Daddario, Andrew Bachelor and Shelley Hennig
Genre : Romantic/Comedy
Running Time :
Trailer :
Dah lama nak tengok English movie rom-com macamni without any gross or sex scene in it and decent dialogues. By decent I meant not much F word and dirty lines. Thanks When We First Met movie, I have a really enjoyable moment during watching this. Walaupun storyline movie ni biasa & most likely cliché tapi mesej dia untuk hargai semua moment yang jadi memang sampai.
Mengisahkan tentang Noah (
Adam DeVine)
yang jatuh cinta pada Avery (
Alexandra Daddario)
dari pertama kali diorang bertemu 3 tahun lepas di Halloween party tapi malangnya Avery cuma menganggap Noah sebagai kawan baik dia & bertunang dengan Ethan (Robbie Amell). Kecewa dengan cinta yang tak kesampaian, Noah mabuk dan meluahkan rasa hatinya kepada Carrie (Shelley Hennig) dan kawan baiknya, Max (Andrew Bachelor) thus end up taking picture in his fav classic photobox. Dengan kuasa ajaib photobox, Noah kembali ke tarikh 31/10/2014 di mana saat pertama kali dia bertemu dengan Avery. Tapi setiap kali dia cuba untuk menjadi cinta hati Avery, usahanya tetap gagal dan Ethan tetap menjadi pilihan Avery. Siapa sebenarnya jodoh Noah? Apa yang perlu Noah lakukan untuk hidup bahagia seperti Avery?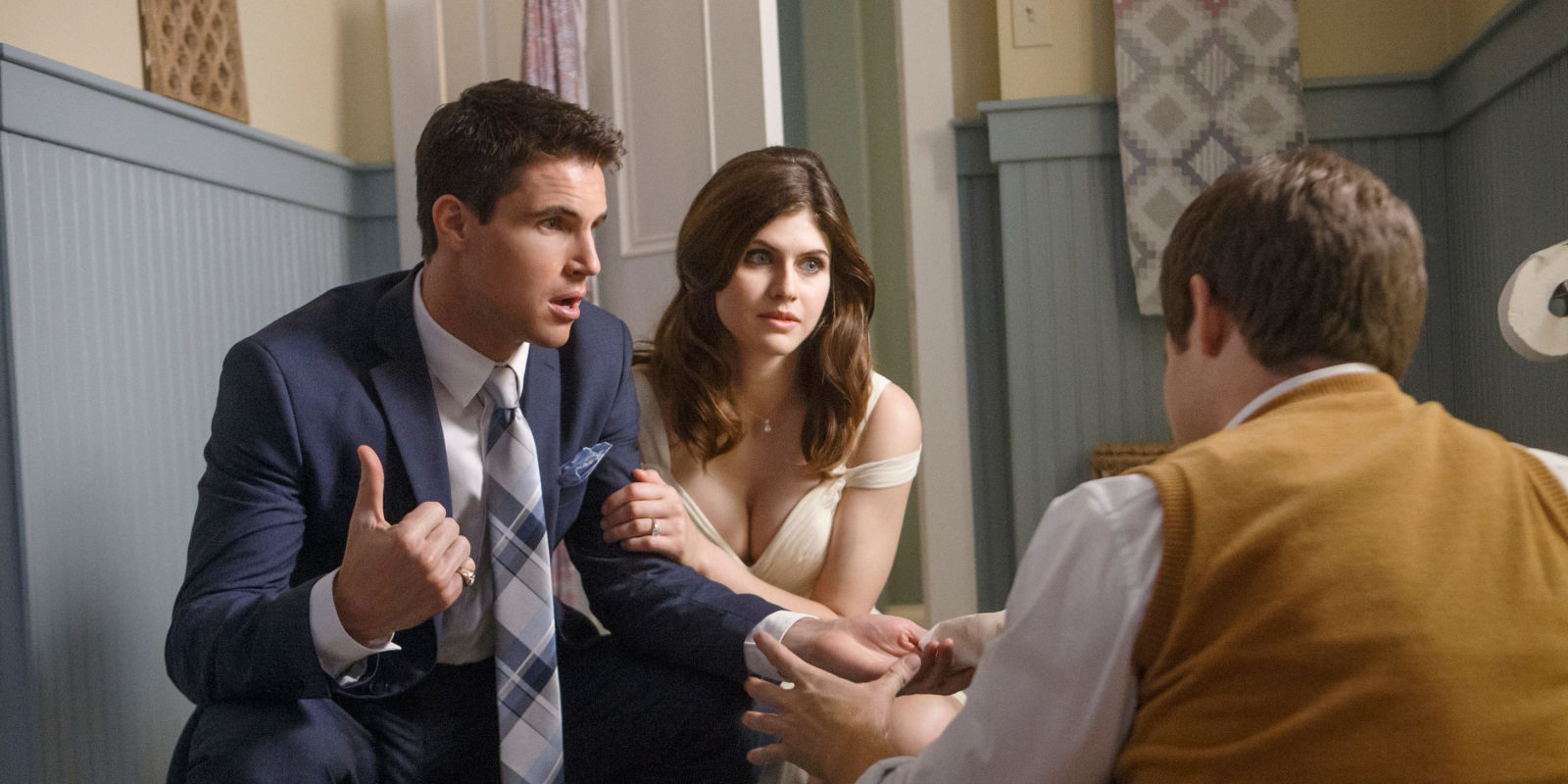 Movie WWFM ni biasa je actually tapi disebabkan karakter Noah tu dilakonkan oleh Adam Devine and he's so cute and fun at the same time memang happy sangat tengok ditambah pulak dengan chemistry dia dengan Alexandra, it makes a perfect chill out movie. And oh not to forget, Ethan is so charming and suave. He's just perfect with his smile and everytime he appears onscreen I will go gaga over him from head to toe sama macam dalam movie Duff dulu. Hats off for this team for making his abs come onscreen. Perfect!
Walaupun Noah dengan Avery ni berkawan baik selama 3 tahun tapi Noah seems tertipu dengan karakter Avery? Sebab Avery yang sebenar berbeza sangat dengan Avery yang dia jumpa malam parti Halloween tu. Bila dah banyak kali time-travel ke masa lampau, baru dia kenal siapa sebenarnya Avery dan siapa sebenarnya yang dijodohkan dengan dia dan kenapa jodoh dia adalah jodoh dia. Fuhh ayat punyalah takmau bagi spoiler kat korang.
Tapi ada kemungkinan jugak dia tertipu sebab dia bagitau dekat Carrie, kawan baik Avery yang selama 3 tahun dia banyak travel sana sini so maybe diorang contact through Skype, phone or social media je.
But it just a minor glitch and you guys might not even be bothered pun bila tengok movie ni. Adam Devine made this movie looks great with his presence cuma macam lagi best kalau diorang tayang life Noah dengan bff dia, Max because Max also a fun character same as Noah. Their brotherhood is great. Harap lepasni ada movie diorang berlakon sekali sebagai bff jugak. Their chemistry is awesome. Not to mention his inspirational quote made me goes woahhh
Fate is a tricky lady. When you try to figure her out, you just get more confused. If I were to go back and live differently, I wouldn't be me. Things happen randomly for no reason at all but they create opportunities. And you learn from those opportunities even the missed ones. The question is, can you realize that next opportunity, when it matters the most?
If you guys mencari movie yang santai, kelakar, romantik try la tengok movie When We First Met hasil produksi Netflix ni. Its predictable story yet endearing. After watching this you guys probably wondering will you go back to the past and change it or just learn from the past and change for a better future?

1. Team Production +1, 2. Visual +1, 3. Audio +1, 4. Storyline +0.6, 5. Casting +1, 6. Genre +1, 7. Themes +1, 8. Editing +1, 9. Social Message +1, 10. Personal Thought +0.8 = 9.4/10