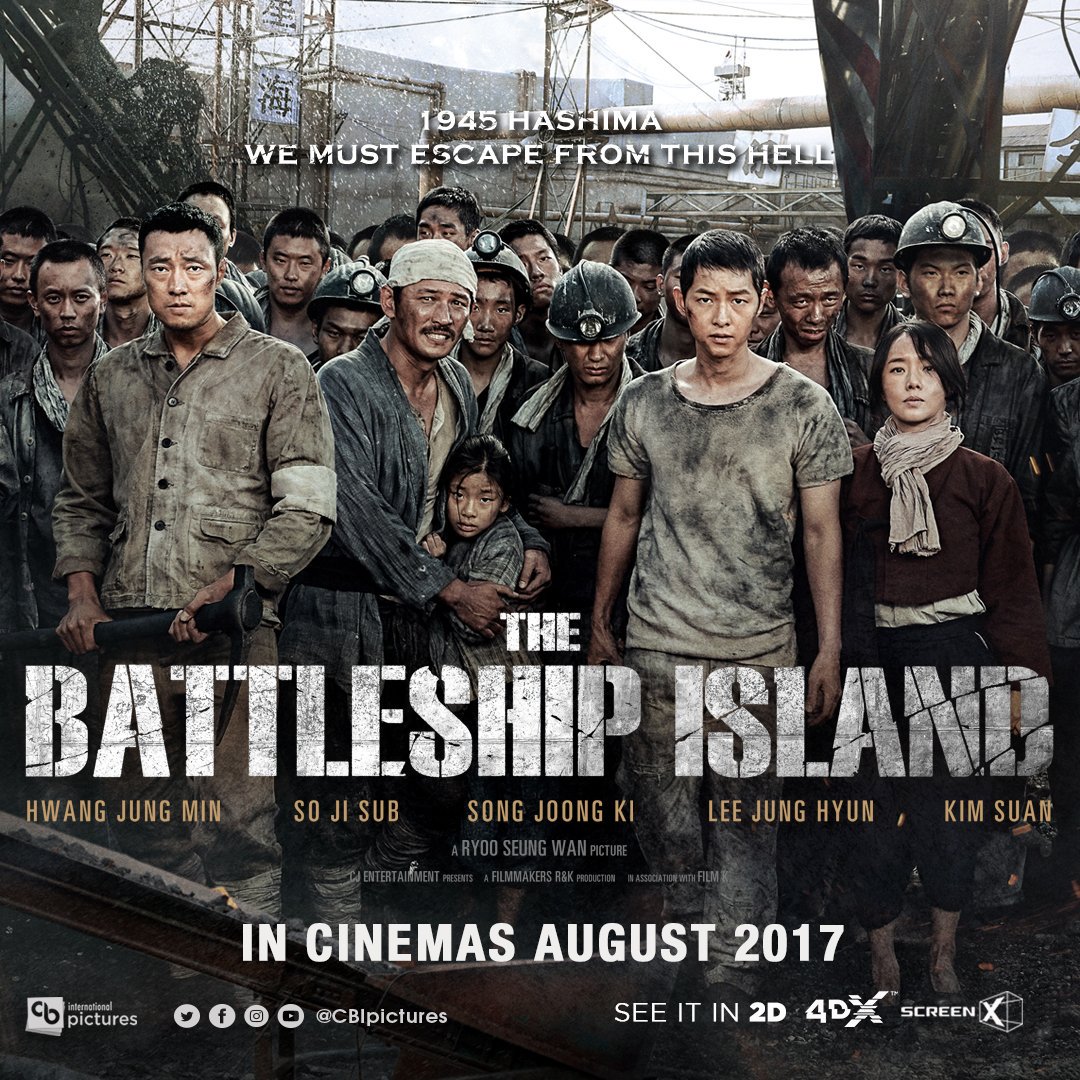 Director : Ryoo Seung-wan
Cast : Hwang Jung-min, So Ji-sub, Kim Soo Ahn, Song Joong-ki, Lee Jung-hyun and
Kyoung-young Lee
.
Genre : War/Thriller/Drama
Running Time : 132 minutes
Trailer :


Bertemakan Perang Dunia Ke-2, sebuah band yang diketuai Lee Kang-ok (Hwang Jung Min) dan anak perempuannya, So Hee (Kim Soo Ahn) mencari jalan keluar dari Pulau Hashima yang dipenuhi 400 orang rakyat Korea yang ditipu, diculik, dibawa secara paksa untuk melombong hasil galian di kawasan tersebut. Diseksa, masalah kekurangan nutrisi, kerja sehingga mati tak kira kanak-kanak ataupun dewasa, kehidupan di pulau tersebut seperti neraka. Sesampainya di pulau, dia kenal dengan seorang gangster yang famous di Korea, Choi Chil Sung (So Ji Sub) dan seorang pelacur secara paksa Mal Nyeon (Lee Jung Hyun). Selepas insiden di bilik air bilamana ketua buruh memukul seorang buruh dengan sengaja Chil-sung menggertak untuk berlawan dengannya. Dengan kemenangannya dan dipersetujui oleh pegawai askar Jepun, dia menggantikan tempat ketua buruh tersebut. Dalam masa yang sama, Park Moo Young (Song Joong-Ki) askar latihan dihantar ke pulau tersebut untuk misi rahsia menyelamatkan ketua Korean Independence Movement, Hak-chul Yoon (Kyoung-young Lee) keluar dari pulau tersebut. Namun setelah mengetahui agenda sebenar di pulau tersebut, Park berubah fikiran dan mengajak semua buruh kasar di situ untuk melawan askar Jepun dan keluar dari pulau tersebut.
We already know life during war world era is tragic and awful so during watching this movie, my heart broke especially when involving torturing scene from Japanese soldier. Pukul tu dah biasa tapi golek atas paku sampai mati memang ngeri kot. Nobody deserves that. Bila tengok life diorang dekat pulau ni memang rasa bersyukur sangat tak hidup pada era tu. Betapa gigihnya director nak wujudkan kembali era tu sebab tujuan asal movie ni pun sebab nak menghidupkan rasa patriotik dan cinta pada negara mereka. Emotion tu memang sampai.
Tambah emosi bila tengok scene Jang-ok dengan anak perempuan dia. Sehabis boleh dia akan buat apa saja cara untuk pastikan So-hee hidup gembira di pulau tu tanpa gangguan dari askar Jepun dengan kebolehan berbahasa Jepun dan ketua band. Tapi kedudukan dia tetap terancam sebab askar Jepun yang kejam dan licik sentiasa mengugut untuk menjual So-hee sebagai geisha.
Walaupun Joong-ki muncul lambat dalam movie ni which is during second half padahal nama dia digunakan during promotional events but he proved his worth as an actor. Karakter Park sebenarnya watak fiksyen so tak banyak referece yang Joong-ki dapat untuk hidupkan watak Park but Joong-ki being Joong-ki. His persona as savior is delightful.
Sama jugak dengan pelakon utama lain, semuanya hebat belaka even pelakon kanak-kanak yang pernah berlakon dalam movie Train To Busan. Memang patut movie ni dapat rating tinggi sebab chemistry between them is superb. Social message sampai, emotion is there walaupun storyline dia agak serabut but still its enjoyable.
Walaupun movie ni katanya based on a true story tapi pihak Jepun menafikan yang rakyat Korea dilayan secara kasar macam yang digambarkan dalam movie Battleship Island walaupun betul ramai yang datang secara paksa. Sekarang ni pihak Jepun tengah mengumpulkan bukti tentang kejadian ni tapi agak sukar sebab ramai yang terselamat semuanya menetap di Korea Selatan.
Even Pulau Hashima ni wujud di Jepun dan menjadi tempat tinggalan sejarah tapi team Battleship Island tak berlakon di sana sebaliknya mencipta set yang seakan sama dengan Pulau Hashima di Chuncheon dan menelan kos 5x ganda dari bajet asal. With great cinematography work from Lee Mo-gae, I can say its worth it since this movie won 5 awards of Best Art Direction, Best Cinematography and Visual Effects. Not only that, tapi banyak lagi kategori award yang BI menang antaranya Best actor, Supporting Actress, Top 10 Film.
Recommended to watch? Obviously yes tapi jangan tengok kalau lemah semangat ataupun tengah makan sebab banyak gore scene and pretty much some of you guys cannot bear to watch.
1. Team Production +1, 2. Visual +1, 3. Audio +1, 4. Storyline +0.7, 5. Casting +1, 6. Genre +1, 7. Themes +1, 8. Editing +1, 9. Social Message +1, 10. Personal Thought +1 = 9.7/10