Director : Martin McDonagh
Cast :
Frances McDormand, W
oody Harrelson,
Sam Rockwell, Abbie Cornish, Peter Dinklage,
Clarke Peters, John Hawkes
Genre : Drama/Crime
Running Time : 110 minutes
Trailer :
Movie TBOEM antara movie yang hangat diperkatakan tahun 2017 sebab content yang bagus & already menang 4 anugerah di Golden Globes so its kind of jinx kalau tak tengok. And yupp its such a great decision to watch this simple yet brilliant piece.
Mengisahkan tentang Mildred Hayes (Frances McDormand) yang kehilangan anak perempuannya selepas dirogol dan dibakar namun selepas 7 bulan berlalu masih lagi tiada tangkapan dibuat. Lebih parah lagi bila ketua polis Bill Willoughby (Woody Harrelson) yang handle kes Angela mempunyai masa yang singkat untuk hidup kerana kanser pankreas. Jalan menuju ke rumah Midred mempunyai 3 buah billboard di tepi jalan so she come up with the idea untuk letak soalan kepada Bill Willoughby tentang kes Angela yang masih belum jumpa sebarang bukti.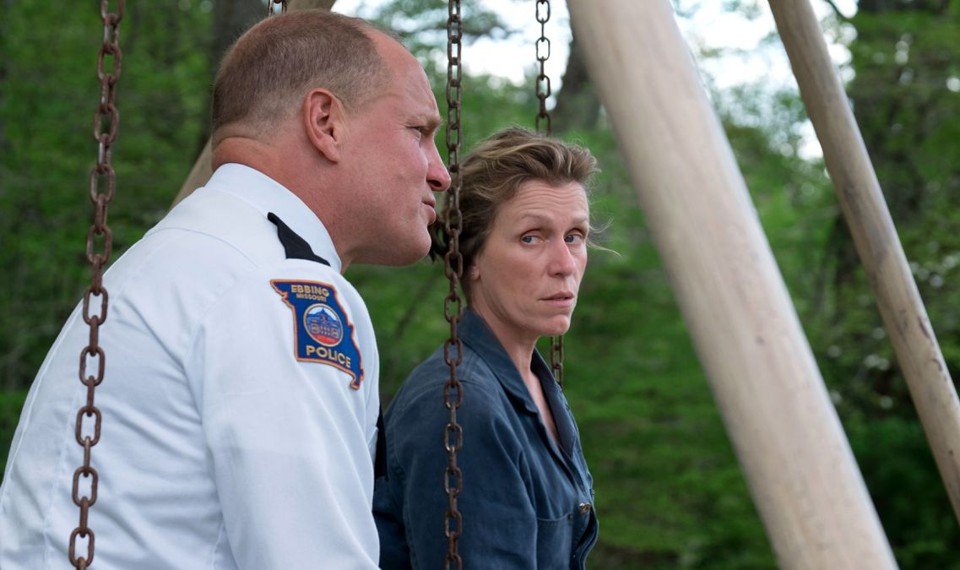 Sebelum wujudnya iklan Mildred di billboard tu ramai yang dah lupa ataupun jarang guna jalan tersebut tapi sejak kes Mildred, ramai yang marah dengan tindakan Mildred sebab Bill cuma ada masa beberapa bulan sahaja lagi untuk hidup ditambah pula dengan kehadiran local TV news sehingga tersebar meluas di media masa dan cetak. Meanwhile, Dixon (Sam Rockwell) cuba untuk mematahkan semangat Mildred dengan pelbagai cara untuk menurunkan iklan tersebut termasuklah menolak pengusaha syarikat pengiklanan dari tingkap syarikat kerana enggan membuang ikalan tersebut.
Jalan cerita movie ni memang simple je but full with emotion. Walaupun dah boleh agak hala tuju movie ni macam mana bila Mildred decide untuk letak iklan mempertikaikan betapa lemahnya pihak polis dalam menangani kes Angela tapi ada banyak plot twist dalam karakter di pekan tu sendiri. Kalau pada awal movie nampak karakter ni tak menyokong tindakan Mildred tapi bila masuk second half sedikit demi sedikit beberapa karakter tu berubah. You'll never expect the ending and some plot to turns out that way or this way. You'll never know which character will bloom as a beautiful one and which will sink in their hatred. The great thing happened in this movie you guys susah nak tentukan siapa salah siapa baik siapa betul siapa jahat sebab karakter masing-masing terikat dengan tugas. Masing-masing bertindak ikut perspektif masing-masing. It just great. You do you without being helpless and asking for God's help.
Walaupun dalam movie ni dialog agak kasar tapi memang kena dengan situasi & kawasan tu. It just perfectly written. Same goes to cinematography team for this movie. Visual untuk kawasan pekan tu memang simple tapi sharp. Dari scene horror kepada intense and full with emotion. Kudos! Walaupun karakter Mildred ni digambarkan sebagai wanita yang tabah walaupun diasak dengan pelbagai cara untuk lunturkan semangat dia tapi you guys boleh jugak nampak sisi lemah sebagai seorang ibu tu. Sama jugak dengan Officer Bill. They're just humans.
1. Team Production +1, 2. Visual +1, 3. Audio +1, 4. Storyline +1, 5. Casting +1, 6. Genre +1, 7. Themes +1, 8. Editing +1, 9. Social Message +1, 10. Personal Thought +1 = 10/10