Cast : James Franco, Dave Franco, Seth Rogen, Alison Brie, Ari Graynor, Josh Hutcherson, Jacki Weaver, Zac Efron, June Diane Raphael, Megan Mullally, Jason Mantzoukas, Andrew Santino, Nathan Fielder, Sharon Stone, Melanie Griffith, Hannibal Buress
Genre : Biography/Comedy/Drama
Running Time : 103 minutes
Selalunya movie yang terbaik akan dapat accolades ataupun biography tapi kali ni movie The Disaster Artist mengisahkan tentang perjalanan pembikinan movie yang paling teruk pernah dibikin di Hollywood, The Room yang ditayangkan pada tahun 2003. Movie The Room ni dikarang oleh Tommy Wiseau dan diarah sendiri oleh Tommy dengan bantuan rakan karibnya, Greg The Baby Face. Selain daripada perjalanan pembikinan movie The Room, TDA mengisahkan tentang persahabatan di antara Tommy dan Greg.
Persembahan Tommy dalam kelas lakonan leave impression for Greg so Greg minta Tommy ajar macam mana nak hilangkan ketakutan bila berlakon depan orang. Since then, diorang jadi best friend kemudian pergi ke L.A untuk jadi pelakon. Walaupun Greg dapat kontrak di bawah talent agency tapi dia langsung tak dapat offer untuk berlakon dalam mana-mana movie ataupun drama. Sama juga macam Tommy yang selalu gagal dalam ujibakat disebabkan dialek dan personality dia.
Disebabkan kegagalan diorang, Tommy berhajat untuk mencipta movie dia sendiri. Lepas berkurung di dalam rumah untuk sesi mengerah idea dan mencari konsep untuk movie dia, finally he come up with a title 'The Room'. Tommy berlakon sebagai watak utama dan Greg hero kedua.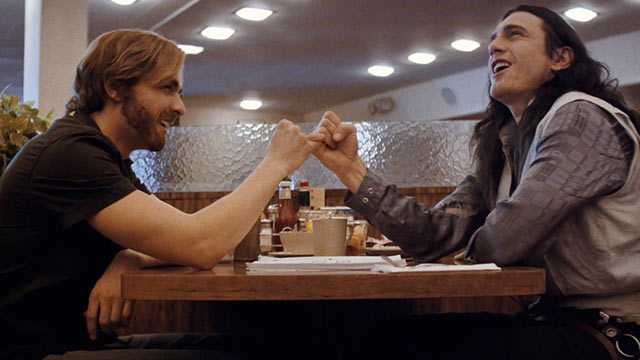 Semua dana ditanggung oleh Tommy sendiri and for that movie alone, Tommy spent 6 million dollars. At first ramai juga crew yang ragu-ragu dengan Tommy sebab dia entah datang dari mana, entah apa susur-galur dia sampai boleh ada duit banyak macam tu. Tapi bila diorang cek sendiri dengan bank, duit memang betul ada, baru la diorang confident nak buat kerja dengan Tommy tapi nak hidup dengan Tommy ni satu ketabahan juga bila dia selalu lupa dialog dia sampai kena ulang berpuluh kali, datang lambat ke set, buat perangai sebab ramai yang tak suka dia. But that's what make it fun to watch and my fav scene of course retake scene of Tommy with his line,
"I did not hit her.
It's not true,
It's bullshit.
I did not hit her.
I did nawwwwttttt!
Oh, hi Mark."

Movie TDA ni diarahkan dan dilakonkan sendiri oleh James Franco sama macam watak utama movie dia, Tommy Wiseau. Due to his great performance as Tommy, dia dapat banyak anugerah untuk kategori Best Actor. And I can say watak Tommy ni kemungkinan besar jadi watak ikonik James sepanjang karier dia and although movie TDA ni movie pertama arahan James, but it looks like a work from experienced one.
You guys will have fun time watching this movie. No worries on sex scene or f language. Not in here except in one scene tapi tak teruk mana pun. And please tunggu sampai habis credit scene sebab you guys akan jumpa the real Tommy Wiseau berlakon sebagai Henry dan bersembang dengan reel Tommy. They both are look-alike. Even cara bercakap pun sama. What a stellar performance James!
1. Team Production +1, 2. Visual +1, 3. Audio +1, 4. Storyline +1, 5. Casting +1 , 6. Genre +1, 7. Themes +1, 8. Editing +1, 9. Social Message +1, 10. Personal Thought +1 = 10/10