Semalam telah diisytiharkan 9 Mei 2018 bakal menjadi tarikh bersejarah untuk rakyat Malaysia buat kali ke14 untuk mengundi siapakah Perdana Menteri negara ni. Kecoh sana sini bila tarikh 9 Mei jatuh pada hari Rabu, hari berkerja buat pekerja dan pelajar IPT.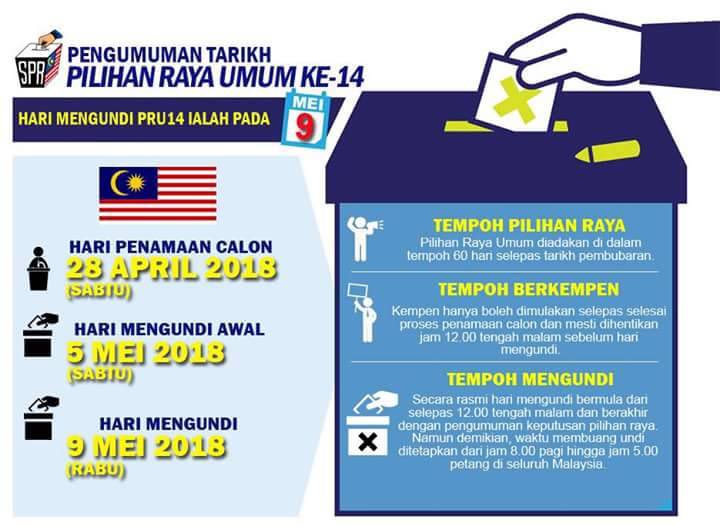 Walaupun pihak peguam dah share Akta Pilihanraya supaya majikan membenarkan tempoh bersesuaian untuk pekerja pergi mengundi tapi belum cukup meredakan kekecohan rakyat di social media kerana ramai yang terpaksa balik ke kampung halaman dan akan mengambil masa yang agak lama terutamanya Sabah & Sarawak.
Lagi parah bila Air Asia menaikkan harga tiket selepas pengumuman pihak SPR. Makin bertambah ramai yang enggan pulang mengundi kerana masalah kewangan terutamanya student IPT. Kos pergi balik untuk penerbangan sahaja dah menelan RM400, belum masuk kos tambahan yang lain. Ramai juga yang mengecam tindakan Air Asia sehingga pagi ni pihak Air Asia menurunkan kembali harga tiket kepada harga normal, RM150. Tapi bukan semua, masih ada juga penerbangan yang dinaikkan mendadak macam tiket dari Kelantan ke Kota Kinabalu pada asalnya RM199 tapi naik mendadak ke RM849 oleh pihak Air Asia
Tak lama kemudian, Kementerian mengeluarkan kenyataan cuti peristiwa bertarikh 9 Mei supaya semua rakyat Malaysia dapat turun mengundi. Walaupun PH mengeluarkan kenyataan, tarikh 10 & 11 Mei akan menjadi cuti umum tapi belum cukup kuat untuk meyakinkan rakyat yang turun mengundi sebab cuma andaian. Kenyataan ni keluar lepas satu petition mendesak Kerajaan Sementara mengisytiharkan cuti umum yang ditandatangani oleh 100,00 orang rakyat Malaysia sendiri.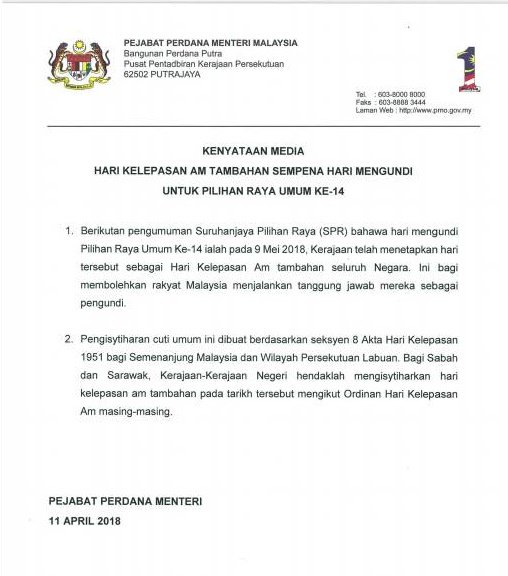 Lega rasa hati bila baca kenyataan ni sebab tak perlu nak apply cuti dah. Malaysia Airlines pun dah keluarkan statement untuk membantu kepada yang bakal pulang mengundi menggunakan khidmat MAS.
Malaysia Airlines, together with its sister airlines Firefly and MASwings, will be

waiving flight change fee for Malaysians with existing bookings with the airline during the upcoming 14th General Election on 9 May 2018. For more info:

https://t.co/y5v5tPGF0B

— Malaysia Airlines (@MAS) April 10, 2018
Happy jugak tengok Twitter ramai yang sudi membantu student ataupun sesiapa yang kekangan dana untuk pulang ke tempat mengundi under hashtag
#PulangMengundi
dan juga
#CarpoolGE14
. Well there are silver lining in everything kan?
Selamat Mengundi semua & say no to #UndiRosak.