Director : Luv Ranjan
Cast : Kartik Aaryan, Nushrat Bharucha, Sunny Singh, Ishita Sharma, Alok Nath, Ayesha Raza, Virendra Saxena, Pawan Chopra, Pritam Jaiswal
Running Time : 138 minutes
Release Date : 23 February 2018
Distributor : AA Films
Production Company : LUV Films & T-Series
Trailer :
Movie keempat gabungan Kartik dan Nushrat di bawah Luv Ranjan kali ni mengisahkan tentang perebutan di antara Sweety (Nushrat Bharucha) dan Sonu (Kartik Aaryan) untuk mendapat tempat dalam hidup Titu (Sunny Singh). Kalau 3 movie sebelum ni Kartik dan Nushrat menjadi pasangan bercinta kali ni diorang bermusuh but still both of them lead the stories. Rasanya Kartik-Nushrat dah jadi pelakon tetap Luv Ranjan ever since their debut movies, Akaash Vaani but hey its great sebab chemistry diorang memang cantik onscreen. Be it as lover or enemy they still can charm the audience.
Titu yang lurus bendul berkawan rapat dengan Sonu sejak dari sekolah rendah dan akrabnya persahabatan diorang sampai wasiat datuk Titu pun akan ada nama Sonu and family Titu dah anggap Sonu macam anak sendiri since Titu anak yatim & ayah dia pindah ke Kanada. Disebabkan pewaris bisnes keluarga, Titu selalu dipergunakan perempuan tambah pula dia lurus bendul so here comes Sonu as his guardian angel. Dalam movie nampak macam Sonu annoying tapi hakikatnya dia cuma taknak Titu kena buli dengan partner je.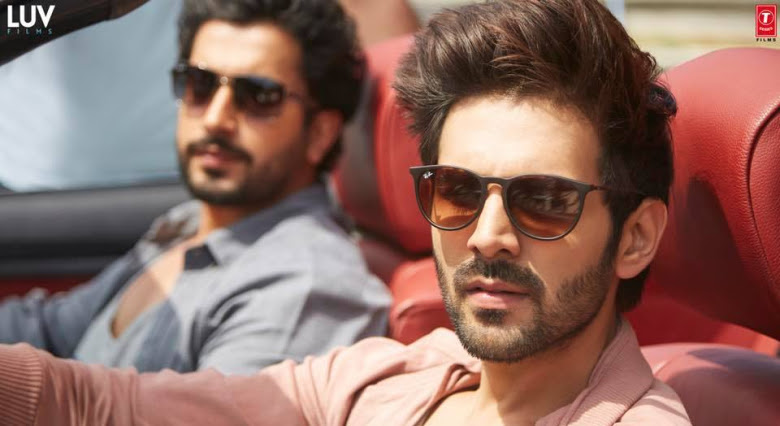 Lepas breakup dengan Pihu (Ishita Sharma), 6 bulan kemudian Titu bagitahu family dia untuk carikan calon bini sebab dah umur 27 so dia nak hidup bekeluarga tapi dibantah oleh Sonu sebab muda lagi & bisnes diorang pun belum rolling bagus lagi. Tapi Titu tetap dengan keputusan dia tambah pula bila calon isteri dia si cantik Sweety. Boleh kata Sweety ni perfect as a wife tapi bagi Sonu bila perfect maksudnya ada something wrong so its time for him untuk gali apa sebenarnya muslihat Sweety sampai dia give up sampai dia menangis suruh Titu pilih dia ataupun Sweety dalam hidup Titu.


Sama macam filem Luv Ranjan sebelum ni yang menengahkan cinta moden and gender battles, man vs woman macam dalam franchise Pyaar Ka Punchnama cuma SKTKS ni tak lah strong sangat and it looks Sonu ni obsess dengan Titu sebab dia benci dengan Sweety tanpa sebab yang kukuh pun. Throughout the story you guys nampak sisi jahat Sweety sekali je pun itu pun rasanya tak teruk mana pun lah. Tak puas hati langsung dengan ending sebab pointless and absurd plus selfish? But thanks to Kartik's poignant acting which rewarded him as 'Best Entertainer of the Year' in Dadasaheb Phalke Excellence Awards
last week.
Bab acting walaupun ramai pelakon baru but you guys can chill dengan comedy scene nak pulak dari Kartik macam movie-movie dia sebelum ni. Cuma ada beberapa line yang repetitious sampai muak nak dengar banyak kali. Some part ada juga punchline tak sampai tapi tak banyak lah. Thanks to Kartik for being dash in this movie. I'm a fan since Akash Vaani, sorry not sorry. But hey, dalam movie ni Alok Nath tak berlakon jadi sanskari chachu tapi nampak side yang baru which is fresh and watak dia sebagai Ghasite pun membantu jugak nak pulak bila diorang jumpa Pihu dekat Amsterdam. Kemain gelenyor memasing.


And and and I got excited when Sonali Singhal makes cameo appearance in this movie. Awwww Pyaar Ka Punchnama reunion
❤🌸
Soundtrack album under production T-Series pun tak berapa memuaskan sangat untuk movie ni. Rom-com bila lagu tak berapa best rasa gagal betul movie tu sebab kekuatan movie rom-com pada lagu dia but hey lagu Subah Subah dengan Tere Yaar Hoon Main tu menusuk jiwa okay sebab Arijit Singh yang nyanyi. Syyyhh, no arguments here. Kudos to screenplay team sebab visual memang cantik sangat in various places dekat India & Amsterdam.
SKTKS movie kedua yang break records masuk dalam 100cr club untuk tahun 2018 lepas movie kontroversi Padmaavat, walaupun storyline dia agak mehhh tapi berbaloi untuk you guys yang nak chill dengan fresh comedy dan view cantik di India. Recommended!
1. Team Production +1, 2. Visual +1, 3. Audio +0.6, 4. Storyline +0.5, 5. Casting +1, 6. Genre +1, 7. Themes +1, 8. Editing +0.6, 9. Social Message +0.4, 10. Personal Thought +0.2 = 7.3/10