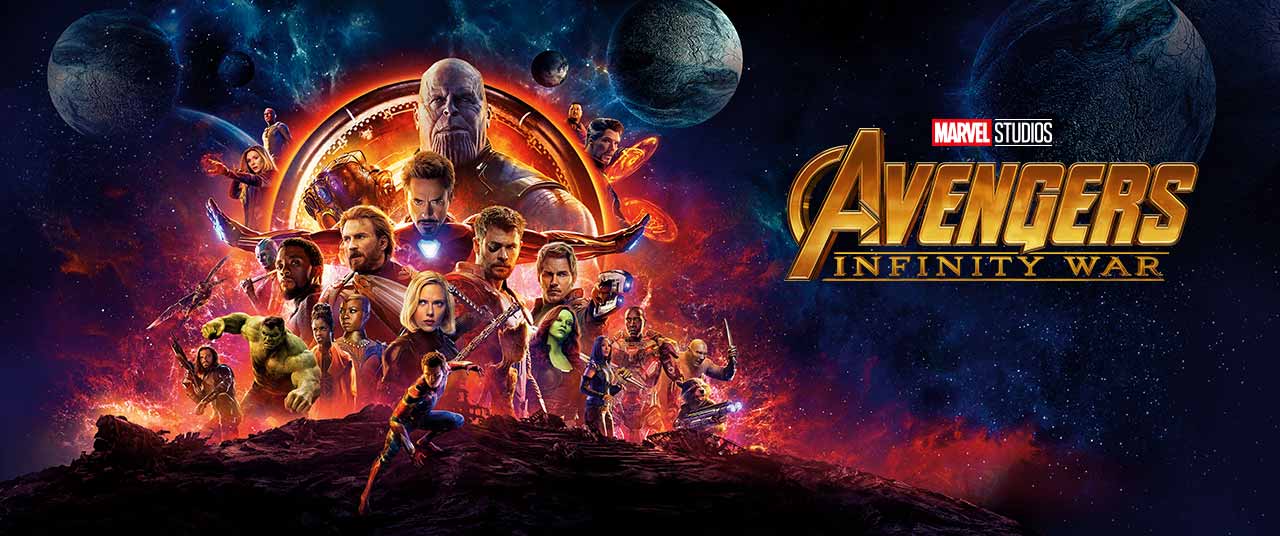 Director : Anthony Russo, Joe Russo
Cast : Robert Downey Jr., Chris Hemsworth, Mark Ruffalo, Chris Evans, Scarlett Johansson, Benedict Cumberbatch, Don Cheadle, Tom Holland, Chadwick Boseman, Paul Bettany, Elizabeth Olsen, Anthony Mackie, Sebastian Stan, Danai Gurira, Letitia Wright, Dave Bautista, Zoe Saldana, Josh Brolin, and Chris Pratt.
Genre :Action/Science Fiction
Producer : Marvel Studios
Distributor : Walt Disney Studios, Motion Pictures
Running Time : 2 hour 40 minutes
Released Date : 23 April 2018
Trailer :
Movie ke 19 dalam franchise Marvel, Infinity War ialah pertarungan di antara superheroes Marvel di Bumi dan di angkasa bergabung menentang Thanos yang ingin menghapuskan sebahagian daripada penduduk semua planet supaya krisis kekangan sumber makanan dapat diatasi. For me, this idea is quite good but not that part of massacre. Untuk menjadi berkuasa di semua planet yang ada, Thanos perlu dapatkan 6 batu berkuasa, batu Masa, Kuasa, Nyawa, Realiti, Minda, Ruang – Infinity Stones.


While Thanos already own 2 stones, Space and Power he still have to hunt for 4 more. Batu Ruang Thanos rampas masa dia serang Asgard (kerajaan Thor), Batu Kuasa dia dapat masa serang planet Xandar. Batu Masa ada pada Dr. Strange, Batu Minda ada pada Vision dan Wanda, Batu Nyawa disorok oleh Gamora di Vormir dan Batu Realiti di tangan Collector di planet Knowhere. 2 batu di Bumi, dua lagi di angkasa and because of that berpecahnya team Avengers untuk menghalang Thanos dapatkan semua batu tu.
Dr. Strange bergabung dengan Ironman, Spiderman dan Guardian of Galaxy team bertarung dengan Thanos di angkasa while team Captain America bergabung dengan Black Widow, Hulk, Falcon, Buck, Black Panther, Vision dan Wanda menentang anak-anak Thanos atau dikenali sebagai Black of Order di Bumi. Lagi satu team, Thor, Groot dan Racket di Naverdille dengan misi untuk mencipta senjata paling berkuasa. Was it worth it? You guys have to watch it.


2 jam 40 minit tempoh masa yang agak lama untuk letakkan semua superheros dalam satu movie but the team did a good job and as a fan of Spiderman, I am so happy and delightful watching Infinity War nak pulak bila comedy scenes datang dari dia dan Ironman. Well talking bout the villain, The Black of Order ni pun bukan calang-calang villain sebab masing-masing ada kekuatan masing-masing since they are the best out of the best villain ever been made from Marvel. Idk kalau Marvel Studios akan keluarkan movie khas untuk Thanos & Black of Order but if they do, it will be a great move sebab tak puas tengok scene diorang.
Even when its good, still ada some scratch sebab my expectation banyak action since superheroes war kan tapi movie ni ada lawak hambar dan draggy. Tak pasti kalau team Marvel dah buat lawak hambar draggy ni sebagai trend sebab dalam Thor Ragnarok they failed to impress me to be in the same page with them.
Ada part emosi dalam scene Thanos dan Gamora tapi jadi hambar dekat Vormir sebab Gamora overinvested emotion dekat situ. Dia tahu kenapa Thanos menangis tapi dia perlukan penjaga dekat situ bagitahu kenapa. I find it absurd tho. Lagi best kalau Gamora fight hard masa tu with some intelligence lah sebab Thanos dah ada batu Realiti tambah pulak dia baru je lepas kenakan Quill masa culik Gamora. Musykil jugak Thanos nak Gamora warisi takhta dia kalau Gamora tak selicik dan secerdik Thanos. Hmmm
For sci-fi movie like this, kudos to Trent Opaloch for making it looks so beautiful onscreen. Perfect CGI, every planet and places looks astonishing and starstruck. Tapi yang paling happy sangat and made me goes whoaaa is the UPGRADED SUITS! Be it Ironman or Spiderman it was lit and slay! If you guys remember dekat hujung cerita Spiderman : Homecoming, Tony ada bagi new suit untuk Spidey, that suit make his debut appearance dalam Infinity War! Full mark for that. No doubt!



Tbh I haven't watch Black Panther and Guardian of Galaxy 1 & 2 but that's okay if you guys pun ada some movies yang tertinggal sebab you won't be left wondering that hard. Dalam movie ada part ataupun character yang buat you guys tertanya-tanya kenapa jadi macamtu tapi I cannot mention here since it will be a spoiler. Nak tahu kena tengok sebab berbaloi. It's not that perfect but its good dan tanda tanya tu wajib ada sebab nak naikkan semangat untuk part 2 nanti. Okay tu je spoiler I can give for now.
Macam biasa lepas credit scene akan ada sikit preview tapi untuk that small scene you have to wait for a very long time sebab credit scene dia panjang. Sempat kalau pergi tandas dulu lepastu datang balik. Thanks me later hihu
1. Team Production +1, 2. Visual +1, 3. Audio +0.4, 4. Storyline +0.6, 5. Casting +1, 6. Genre +1, 7. Themes +1, 8. Editing +1, 9. Social Message +0.2, 10. Personal Thought +1 = 8.2/10