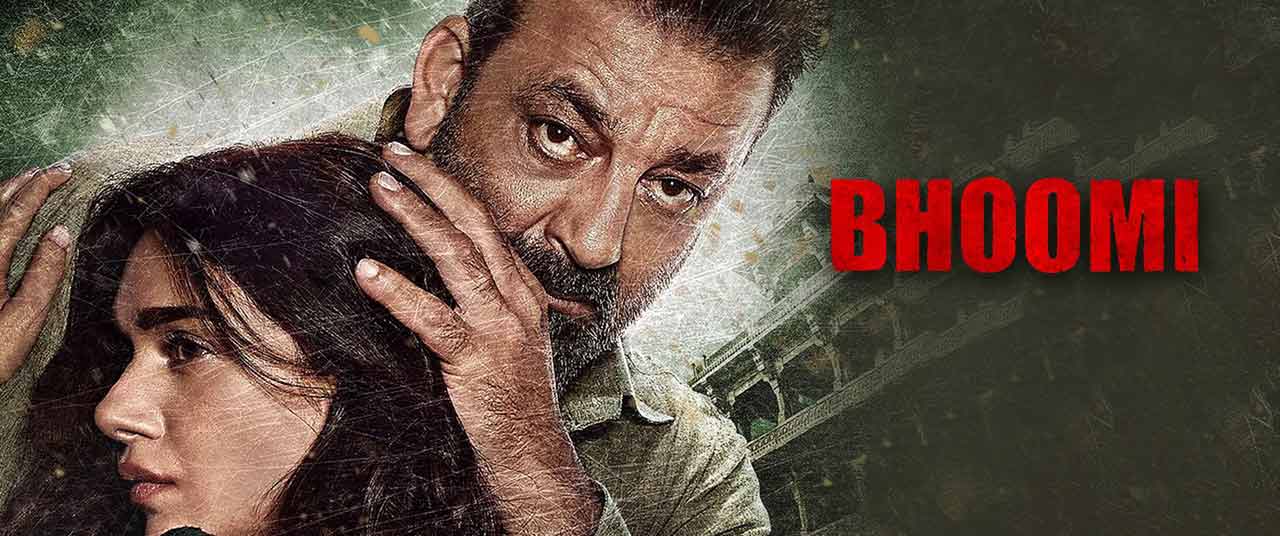 Director : Omung Kumar
Cast : Sanjay Dutt, Aditi Rao Hydari,
Genre : Crime Triller/Drama
Trailer :
Movie Bhoomi antara salah satu movie yang dinantikan jugak la dekat Btown sebabnya ni comeback movie untuk Sanjay Dutt lepas keluar dari penjara tahun ni. Movie last dia pun tahun 2014, movie PK. So fans Baba Sanju memang rindu nak tengok dia onscreen after 3 years he's been missing.
Bhoomi mengisahkan tentang Bhoomi (Aditi Rao Hydari) anak kepada pembuat kasut di Agra, Arun (Sanjay Dutt). Since Bhoomi dah nak berkahwin dengan cinta hati dia, dua beranak ni memang busy lah dengan majlis tu. At the same time, anak penjual manisan, Vishal dah lama syok dekat Bhoomi tapi kena reject banyak kali sampai satu tahap dia bagitau kawan dia and they come up with solution untuk gang rape Bhoomi dekat cinema malam sebelum hari perkahwinan Bhoomi. Bhoomi kena rogol, pengantin lelaki lari, satu kampung pulaukan Bhoomi lepas Bhoomi kalah dekat mahkamah sebab Vishal and the gang dapat lawyer bagus.And second half of the movie is all about Bhoomi & her father plotting revenge. The end.
Yes it is a typical rape movie but with horrible storyline and editing. Marah betul dengan Omung Kumar ni actually. Lepas movie women-centric dia hasilkan, he end up hancurkan feminism dalam movie Bhoomi. Like seriously? All Bhoomi did was cry cry cry, sob act like she's happy then cry cry cry. Lagi rasa nak marah bila tengok scene dekat mahkamah. Dah 2017 dah kot tapi Sanjay Dutt boleh buat drama ala hero dalam court. When in reality you cannot. Plus, ada minor rapist dalam movie ni untuk dia kembangkan plot tapi macam tu je lah. Hancur.
Belum masuk part revenge lagi, kira dah power sangat dah dua beranak ni tapi sudahnya kalah jugak bergaduh dengan geng jahat tu. First of all, Bhoomi tu perempuan, secondly ayah dia dah tua & a shoemaker. Nak berlawan dengan gangster dengan kudrat dia yang tersisa tu memang tak boleh nak imagine macam mana boleh menang. Tapi ni movie Sanjay Dutt kot. Hero kena menang.
Tu belum masuk scene lawak dalam movie ni. If you guys think being drunk and crack a racist joke is funny then you'll feel entertained with this movie. If its not then you'll be like me, wondering where this movie will lead to. What's the point of its existence though.
Item song Sunny Leone pun hambar, lagu yang lain pun hambar. emotions not there. Oh God, this what happened when director busy flirting with all female cast and siapkan kerja cincai je. No wonder lah Sanju Baba sendiri pun tak suka movie ni.
Kesian lah comeback movie teruk cenggini sedangkan biopic movie Sanjay Dutt dah nak keluar dah tahun depan. :(
1. Team Production +0, 2. Visual +0.5, 3. Audio +0, 4. Storyline +0.2, 5. Casting +1, 6. Genre +0, 7. Themes +1, 8. Editing +0.5, 9. Social Message +0, 10. Personal Thought +0 = 3.2/10