Director : Susan Johnson
Writer : Sofia Alvarez
Cast : Lana Condor, Noah Centineo, Janel Parrish, Anna Cathcart, Andrew Bachelor, Trezzo Mahoro, Madeleine Arthur, Emilija Baranac, Israel Broussard, John Corbett
Production Company : Overbrook Entertainment, Awesomeness Films
Distributor : Netflix
Genre : Teen Romance
Running Time : 99 minutes
Release Date : August 17, 2018 (United States)
Trailer :
Twitter dilanda demam Peter Kavinsky baik luar negara mahupun dalam negara. Sana sini mention pasal movie ni so I join the Peter Kavinsky wave. Katanya sweet habis, biasa lah genre teen romance sejenis movie yang sweet angau sengih sampai ke telinga but for me this movie biasa je sama macam Kissing Booth.
TATBILB mengisahkan tentang kehidupan Lara Jean (Lana Condor) yang agak loser untuk high school kids. Dia hidup dalam dunia dia je, spend time dengan family, lepak dengan kawan baik dia dekat sekolah, layan movie or TV series malam Sabtu sebab tak ada life. Dia suka baca novel sambil berangan hidup bahagia dengan crush lepastu tulis surat then simpan dalam box. Disebabkan sedih sangat dengan kehidupan Lara ni, adik dia Kitty (Anna Cathcart) ambil surat yang Lara tulis kemudian pos kepada 5 orang crush Lara dari kecil sampai sekarang.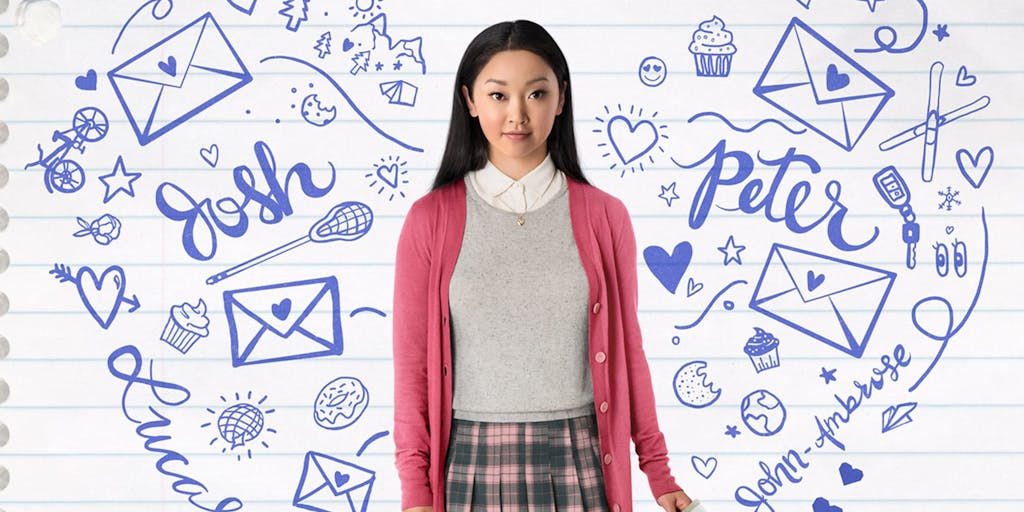 Since then life Lara berubah bila semua yang dapat surat tu jumpa dia especially Josh Sanderson dengan Peter Kavinsky. Dari cara Josh, Lara tak bertepuk sebelah tangan tapi Lara taknak bercinta dengan Josh sebab Josh ex-boyfriend kakak dia, Margot (Janel Parrish). So Lara buat agreement dengan Peter yang baru je putus dengan Genevieve (Emilija Baranac) dan tengah cari jalan untuk buat Gen jealous.
As cliché as this movie can be, dari agreement bertukar kepada cinta walaupun Lara macam tak pasti dengan cinta Peter since Gen suka datang kacau hubungan diorang berdua. Idk which part yang orang dok angau sangat dengan Peter sebab apa yang Peter buat untuk ambil hati Lara tu cuma perkara biasa je. Mungkin diorang angau sebab bad boy macam Peter boleh berubah jadi baik kepada perempuan tak ada life macam Lara. This movie gives hope to them I guess.
There's nothing much to offer pun since a cliché love story, a not so hot leading cast and just a pass by music plus dialogue pun biasa je. So for me this movie quite mehhhhh. Daripada layan Peter, lagi angau tengok Josh sebab sweet sangat dengan Margot tapi apa malang entah dapat awek yang tak reti nak appreciate pakwe bagus macam tu. Sanggup beli flight ticket untuk jumpa awek berjatu jauhnya tapi kena dump macam tu je for no reason.
Banyak juga loopholes dalam movie ni macam relationship Lara dengan Christine yang putus macamtu je lepas diorang semua pergi ke ski camp and Lara seems not to be bothered with that at all. I mean duhhh satu-satunya kawan kau lepas friendship dengan Josh rosak kot. Mungkin tak cukup masa untuk explain since novel adaptation since my junior cakap novel lagi best dari movie.
Movie ni akan ada 2 sequel kalau ikut novel karya Jenny Han tapi rasanya malas dah kot nak tengok sebab tak ada apa yang menarik pun.
1. Team Production +1, 2. Visual +1, 3. Audio +0.4, 4. Storyline +0.4, 5. Casting +0.4, 6. Genre +0.3, 7. Themes +1, 8. Editing +0.5, 9. Social Message +0.1, 10. Personal Thought +0 = 5.1/10