Director : Meghna Gulzar
Writer : Vishal Bhardwaj
Cast : Irrfan Khan, Neeraj Kabi, Konkona Sen Sharma, Tabu, Sohum Shah, Gajraj Rao
Genre : Mystery, Drama
Production Company : Junglee Pictures
Release Date: 2nd October, 2015
IMDB Rating : 8.3/10
Trailer :


Movie Talvar ni mengisahkan tentang kes pembunuhan gadis remaja berumur 14 tahun & pembantu rumah yang berlaku di India pada tahun 2008. What makes this movie interesting is this movie based on real life case yang sedang dibicarakan di mahkamah. Kes ni agak famous sebab kejadian pembunuhan ni berlaku di dalam rumah tapi tak ada siapa yang tahu siapa pembunuh sebenar. So the parents yang dipenjarakan sebab diorang suspek terdekat berdasarkan teori.
15 Mac 2008, mayat Arushi dijumpai mati di dalam bilik di atas katil oleh parents dia & they put the blame on their home servant, Hemraj. Tapi lepas polis datang, polis jumpa mayat Hemraj dekat rooftop so parents Arushi ditahan reman untuk siasatan. Since polis tak mampu nak solve kes ni, pihak CBI yang diketuai oleh Irrfan Khan datang untuk mencari bukti & selesaikan kes.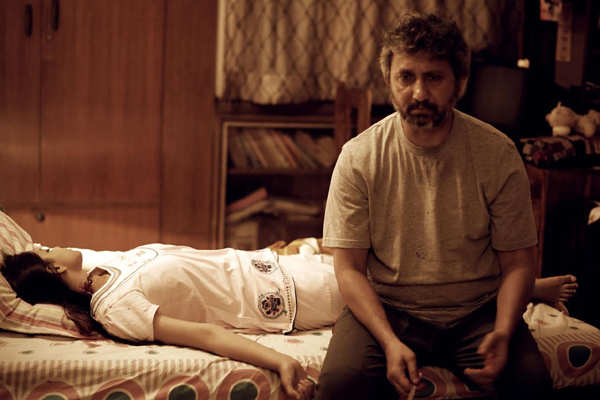 Movie ni sikit pun tak lari dari cerita sebenar. Tak ada babak fiksyen yang direka dari team produksi pun. Semuanya memang berdasarkan apa yang terjadi sepanjang CBI & polis menyiasat kes ni. Throughout the movie, you guys will see the tension between CBI, police and the parents itself. Masing-masing ada teori masing-masing & masing-masing nak buktikan yang teori diorang tu betul.
Storyline mantap & Vikash did his best as a scriptwriter. He did his research, Meghna did her part in putting the emotions although ramai yang ragu-ragu dengan Meghna since movie dia sebelum ni tak mampu pergi jauh but she did justice on this one!
Bila tengok movie ni you really cannot trust each character. The best part in this movie is, you guys memang tak mampu nak berpihak kepada sesiapa. Even movie ni tunjuk tentang parents Arushi tapi you guys will have the same doubt and questions for this and that. That's what happened when you cast a brilliant actor with great acting chop.
Cuma tu lah part Tabu sebagai isteri Irrfan & discuss on their marriage problem is not that necessary. Maybe director nak bagi otak audience rehat kejap but okay lah this glitch you just can put it aside lah.
But all in all this thriller drama movie ni memang berjaya buat audience in split and uncomfortable. It is real and it happened to this family. There is no happy ending guarantee you can get, there's no cheerful joy because this movie is ongoing case & you know the parents yang masuk dalam lokap. As a sane minded person when watching this movie you guys mesti ada question, how come parents nak bunuh anak sendiri sedangkan tu anak kesayangan diorang? But the evidence proved it otherwise.


This movie is a must-watch movie. Put this movie in your list and trust me, you guys will not regret watching it.
1. Team Production +1, 2. Visual +0.5, 3. Audio +0.5, 4. Storyline +1, 5. Casting +1, 6. Genre +1, 7. Themes +1, 8. Editing +0.5, 9. Social Message +1, 10. Personal Thought +1 = 8.5/10
Sebagai manusia bukan rakyat India of course lah tahu kes ni dari movie Talvar je but since then always follow up case ni & yesterday the parents finally dibebaskan dari hukuman bunuh oleh mahkamah. Of course Talvar team production happy and yes I'm also in the same boat. Tapi persoalan utama masih lagi belum terjawab,
Siapa yang bunuh Arushi Talwar & Hemraj?