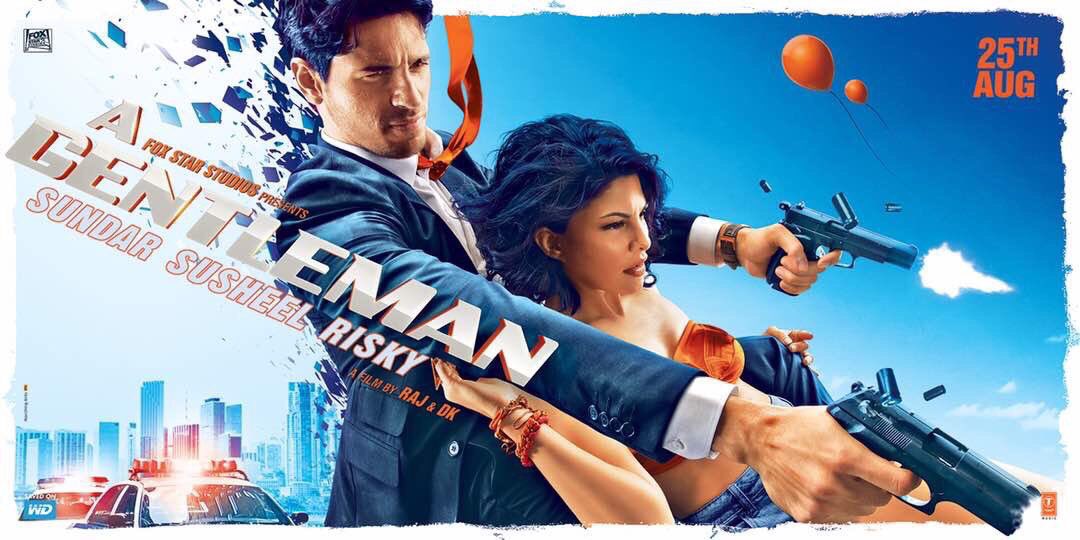 Director : Raj Nidimoru and Krishna D.K.
Cast : Sidharth Malhotra, Jacqueline Fernandez, Darshan Kumaar, Suniel Shetty, Hussain Dalal
IMDB Rating : 7/10
Trailer :
From Bang Bang 2 to Reload to A Gentleman. I guess title A Gentleman suits better kot with this movie ni kena lah dengan dia punya character yang sunder & risky tu. A Gentleman mengisahkan tentang kehidupan dua watak yang berbeza, Rishi seorang perisik unit khas di India dan Gaurav Kapoor seorang pegawai pemasaran di Miami. Dua kehidupan & perwatakan yang jauh berbeza tapi disebabkan satu insiden yang berlaku & viral menyebabkan semuanya berubah. K I hate synopsis. T.T
A Gentleman antara dalam list movie yang nak sangat tengok sebab :


1. Sid Malhotra
2. Sid Malhotra
3.Sid Malhotra
4. Sid Malhotra
5. Sid Malhotra
Hihu he's so hot & I cannot help it. Sorry fellassssss.
I already watch 2 movies of Raj & D.K - Go Goa Gone & Happy Ending. GGG memang best tapi HE average je. So lepas 3 tahun lepas kegagalan HE, this duo come up with A Gentleman. Tbh, I tak follow up sangat pun progress movie A Gentleman since busy dengan kerja cuma tahu lah siapa casting & production team sebab movie ni dari tahun lepas lagi dah heboh dah. Sepatutnya jadi sequel kepada Bang Bang movie Hrithik Roshan & Katrina Kaif tahun 2014 tapi diorang decide untuk gerak sendiri.
Bila gerak sendiri haruslah kena keluar idea sendiri & diorang still kekalkan genre yang sama, action romantic comedy. Untuk action, yes movie ni memang sarat dengan action since spy memang bersepah dengan misi sana sini and I enjoyed every scene tapi ada problem sikit dengan romance genre. I agree gabungan Sid & Jac memang looks beautiful onscreen tapi sayang chemistry takde. Nampak awkward walaupun both of them have great physical figure but zero chemistry I'm sorry I cannot approve this jodi. But I gotta say that pole dance is top notch, I really love it. But apart from that, Jacqueline dalam movie ni memang buang masa je lah.


Jacqueline = the flower pot heroine (heroin tempek, masuk dalam movie untuk nampak cantik je)
Selain dari Sid yang hot mata Iolls ternampak Darshan dalam movie ni wow oh wow! Bukan sebab hot tapi sebab dia punya lakonan paling mantap dalam ni oh em jiiiiii! Seriously lepasni tolong lah ambik dia jadi hero. Dia berlakon jadi baik, innocent, husband yang supportive dalam movie Mary Kom, menjadi. Dia berlakon watak jahat, spy yang hati kering pun menjadi. He deserves an award for this! Walaupun screen time dia tak banyak sangat but hey, he steals the show!
First half movie ni memang best, flow cerita dah cantik dah tapi masuk second half dia dah jadi hambar sikit sebab dia bagitahu rahsia movie ni awal sangat. So dekat second half tu dah tak banyak sangat dah suprise element or suspense tu. Kira second half tu kau layan je sisa popcorn yang tertinggal. Nasib Sid yang berlakon. Semangat jugak lah nak tengok sampai habis :P
If you guys nak relaks nak tengok movie, nak enjoy just watch this movie. Untuk santai & harapkan movie cliche tapi lawak, this movie is definitely your choice. Lagu dia pun semuanya best especially Bandook Meri Laila my current fav song!
Kalau movie under Fox Star Studio tak payah risau pasal cinematography dia sebab memang letops! View dekat Miami memang cantik. Tapi kalau dah ada Sid dekat dalam movie tu, yang tak cantik pun jadi cantik hewhewhew
1. Team Production +0.5, 2. Visual +1, 3. Audio +1, 4. Storyline +0.5, 5. Casting +0.5, 6. Genre +0.5, 7. Themes +1, 8. Editing +0.5, 9. Social Message 0, 10. Personal Thought 0 = 5.5/10