Director : Andrés Muschietti
Producer : New Line Cinema
Cast : Jaeden Lieberher, Bill Skarsgård, Jeremy Ray Taylor, Sophia Lillis
Genre : Horror, Thriller
Rating : 8/10
Trailer :
Tbh tak tahu pun pasal movie ni. Ada la dengar dekat radio sekali dua macam tu. Adik-adik la yang gigih cerita pasal kemunculan movie ni. Adik yang second last bagitahu dia nak tengok movie ni sebab budak kecik dalam movie ni comel T.T
Bila scroll Twitter ramai pulak yang sembang comparison dengan movie IT tahun 1990. So yang ni remake but I guess this one is better lah sebab with advanced technology & VFX, movie ni looks great compared to the original. Badut dia pun lagi seram kalau nak bandingkan dengan yang lama tu macam tempek tepung letak gincu je.


Diadaptasikan dari sebuah novel, IT hasil Stephen King & movie IT tahun 1990, this movie is AMAZING! Selalunya kalau tengok horror thriller mesti cliche, part hantu datang pun dah boleh agak, hantu pun cenggitu le rupa dia. But this movie ya tuhannnn even adaptasi cuma separuh dari novel & remake, IT 2017 tetap deliver fresh content. Kudos to IT 2017 team!
Untuk movie era tahun 1988, costume design & set design memang kena bekerja keras sikit untuk hidupkan era tu & of course they did great. Totally in love with their wardrobe! Nak pulak summer wardrobe collection memang comel je. Costume Penny the Dancing Clown pulak diinspirasikan dari gabungan Medieval, Renaissance, Elizabethan, & Victorian eras. Nampak tak kegigihan team ni? Top-notch!
Even dapat jawapan dalam movie ni, Penny the Dancing Clown akan menjelma sebagai ketakutan budak-budak di bandar tu tapi still lagi tak tahu kenapa Penny membunuh dengan jumlah yang agak besar, tak tahu apa history & nature Penny. I guess this team simpan untuk movie sequel nanti.
So maybe sequel nanti bermain dengan flashback & 27 tahun kemudian bila 7 orang watak kanak-kanak dalam movie ni dah besar. Lagipun masing-masing dah berjanji, bila Penny menjelma balik di bandar tu, diorang pun akan datang balik untuk halau Penny. Ghostbuster team but in cute version. I love them all! Every character dalam movie ni memang perfectly delivered. Dah la comel, lawak pulak tu, kind of entertaining lah walaupun horror thriller.
Tapi kind of annoying jugak bila Penny datang. Suspense sebab Penny ni tak macam hantu dah, dia macam serial killer. Yang paling kejam sekali sebab bunuh budak-budak yang lemah. Haa gittew. Nak pulak part dia serang Georgie tu. Whyyy :'(
Cuma wondering jugak lah tahun 1980-an dulu memang dah start trend fuck ke? Sebab budak-budak ni boleh tahan jugak dia punya cursing words tu. Nak kata pengaruh abang/kakak tu tak jugak sebab memasing anak sulung/tunggal. Hilang sikit kecomelan diorang dekat situ.
Dalam movie ni wondering jugak lah where are their parents? Untuk anak emas macam Eddie & ada super-protective and concerning mom, Eddie spent his time outside quite often instead of sitting at home watching movies. Lagi pelik bila Stanley tak kena denda baca Torah sampai bagus sebab ayah dia dah marah awal movie tu bila dia gagap nak habiskan satu ayat.
Too unreal to believe this kids have that much of time. Plus, bila ayah Beverly larang melepak dengan geng budak lelaki ni, ayah dia mention 'orang dekat bandar bergosip' tapi pelik bila bandar tu macam hambar. To have a serial killer with massive amount of victims, mesti lah parents lebih mengongkong kan? Dia macam something's weird with that town. Not only Penny but the adults pun quite loser jugak. But I can say this is just a minor glitch, tak kacau sangat pun dengan movie ni.
For a newbie yang tak familiar langsung dengan movie IT, maybe you guys tak ada masalah langsung nak layan movie ni & I cannot talk much about this movie untuk buat comparison which one is better, was it the novel or was it original IT movie since tak pernah tengok atau baca. But I can assure you guys akan enjoy bila tengok movie ni since movie critics bagi thumbs up & banyak positive reviews dari audience.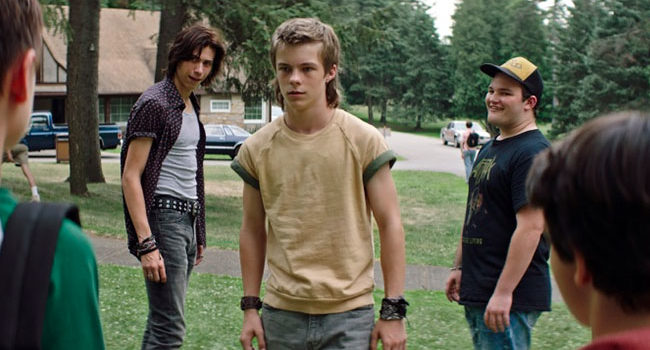 Movie IT ni ambil masa dari tahun 2009 sampai tahun 2017 untuk siapkan so I really hope tak jadi macam The Conjuring. First installment gempak tapi masuk yang kedua dia dah mula macam nak sepak. Since movie ni dah dapat pujian so I bet ramai lah yang harapkan sequel best so I really hope they don't jinx it sebab nak sangat tahu apa history bandar Derry, history Penny & kenapa semua terapung?
All in all, this movie deserves a lot of attention and should be in your horror collection. Happy watching :)
Team Production+1, Visual+1, Audio+1, Casting+1, Genre+1, Theme+1, Editing+0.5, Storyline+0.5, Social Message+0.5, Personal Thought+0.5 = 8/10